I've spent time playing games on websites online to ensure quality, check for ads and see what's available for free. All the types of games are online (computer browser) and mobile (phone/tablet browser). After that, I've listed the 5 Most Popular Websites for Free Online Games in 2022.
Crazy Games is a great website to check out if you're looking for online games. There's a huge selection of games for you!
The best thing about Crazy Games is that you can play without interruptions from intrusive ads. You'll see ad banners on the page, but you won't have any video advertisement pop-ups. Not only that, you can access Crazy Games on any device and have a perfect mobile experience. I'm sure you'll enjoy playing it!
Pros
No intrusive ads (just ad banners on the page)
Huge selection of games
You can play online or on your phone without having to download anything.
Cons:
You can't create an account to track progress or add friends.
Free Online Games (FOG) allows you to play games for free on your computer and your mobile device without downloading any apps. The most popular games on this website seem to be more action-oriented. Anyway, you can browse the games by category under the "More Games" tab.
During the time I spent on FOG, I saw a few ads for other games on the site as well as video advertisements during breaks in gameplay. But you could enable the ad blocker to stop it.
It's optional for you to create an account to keep track of your progress and rank on high-score boards.
Pros
Mobile versions of games are available without having to download apps
Big variety of games and categories
Few ads
Cons:
Video advertisements
You have to disable your ad blocker to play
Agame offers thousands of online games including single-player and multiplayer modes. You can play all of the games for free without having to create an account, but expect to see a few advertisements. You had to watch as many as three video advertisements (10-30 seconds each) before playing some games.
If you want to create an account, you can. With an account, you can invite friends and add other members playing online together.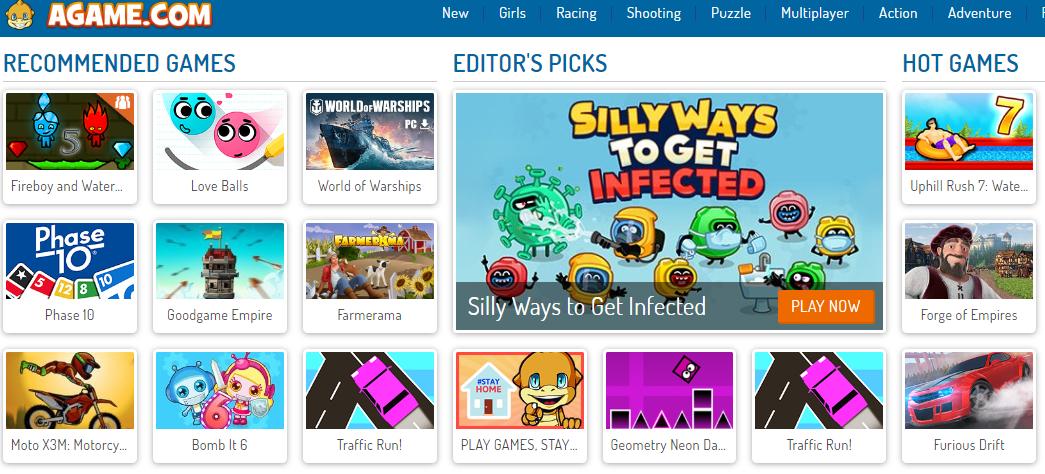 Pros
Huge selection of games
You can play online or on your phone without having to download anything.
Cons
Several video advertisements before you play
Not all games run smoothly in mobile browsers.
Armor Games is another great resource for finding free online games in categories especially MMO (Massively Multiplayer Online), strategy, adventure and action.
Most of the games that you've found online at Armor Games are also available as apps for iOS and Android devices, which means you can download them to your mobile device and continue playing away from the computer. You will also find a lot of unique and interesting games created by Armor Games and independent developers.
You can create a free account on the website to keep track of your high scores and favorite games, but the account isn't necessary to play.
Pros
Few to no ads
Many games are also available as apps.
Cons
MSN Games is also known as Zone.com, and it offers single-player and multiplayer games in a variety of categories.
While I was browsing the games, I found that some full versions were available for free while other games were available only as free trials or pay-to-play options. You can click the "Free online" tab to filter your results.
Unfortunately, the format wasn't the best for a phone. On a tablet or a device with a bigger screen, the games would have run much more smoothly.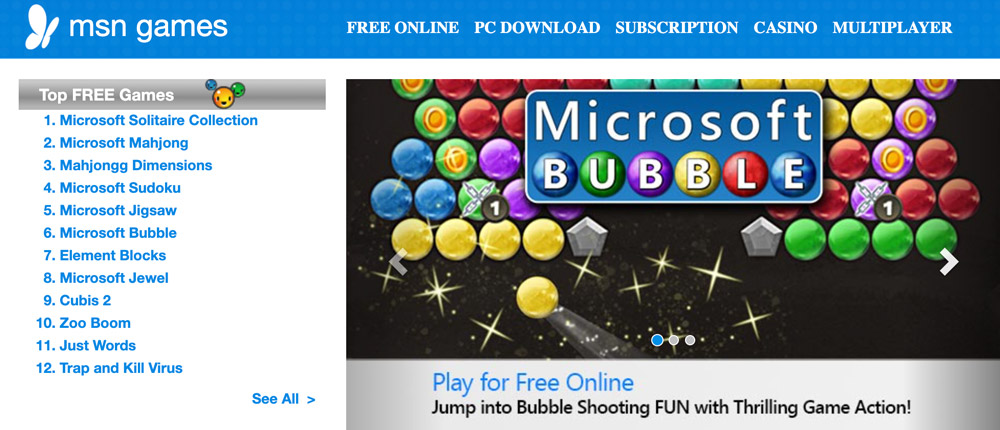 Pros
No video ads
Big selection of classic and new games
No account required
Cons
Some games are only available as free trials or pay-to-play.
The mobile website may not be formatted correctly for your device.