A
gloco has released Agloco Viewbar for free download by registered users. Angloco Viewbar toolbar is the core component of the get paid to surf or online money earning program, where banner ads or text ads from advertisers get delivered to the users' monitor screen through the software. Agloco users run the Viewbar program which sticks itself to the bottom of desktop just above the taskbar while surfing or browsing the Internet, and in the process earn money (or hours more specifically) which redeemable or convertible to cash or share in future.
Learn more more information about Agloco program.
You need to be a registered user of Agloco in order to download and make use fully of the toolbar. If you not yet a member, you can sign up as Agloco member (defunct) to make money. Once you have registered, login to your member account area, and you will see two download links at the bottom left corner.

"Fast Download Link" actually redirects you to Tucows website which also hosted the viewbar for free download, while "Alternate Download" will let you download the Viewbar from Agloco server straight away.
If you're lazy to sign in to your accuont, here's the direct download link to Agloco Viewbar v1.03 (no longer available).


Position of Agloco Viewbar on the Windows desktop.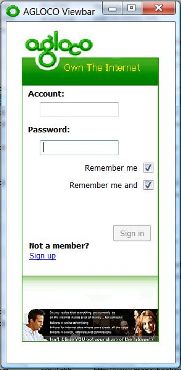 You still need to login though to run the Viewbar. By default the Viewbar is docked at the bottom of desktop, but you can switch the position to the top of the screen. Agloco Viewbar also has a nice feature which allows users to change colors of skin, selectable from blue, red, purple and green.