A
pache Controls Blackhawk Spinner push/pull arcade spinner features stainless steel and aluminum construction, high quality "Press-Fit" Brass Bearings, stainless steel Multi-Wave Compression Springs for excellent push/pull movement, Mac OS X, PC Windows XP, 2000, ME compatible, supports MAME and other Mac and PC based emulation programs, Oscar Controls Spinner Control Board and Ultimarc Opti-pac Control Board. Beside, the spinner also has the capabilities to 2 Blackhawk Spinner or 1 Blackhawk Spinner and 1 trackball on the same machine. The push/pull of the spinner utilize Cherry microswitch design.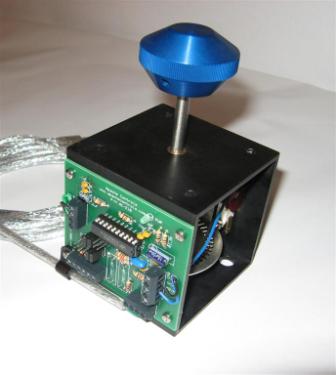 RetroBlast! reviews Blackhawk Spinner from Apache Controls and concludes that "I started the review with a wonderful first-impression "vibe" and the spinner never disappointed my high expectations. The Apache Controls Blackhawk spinner is priced at $129 (the knob is an additional $9.99 when purchased with the spinner), which is relatively pricey compared to other available spinners, but it is definitely a top performer, exceptionally well designed and built, and currently the only up/down spinner on the market. It's also backed up by a 90-day full refund if you're not completely satisfied.
If you want the ultimate arcade spinner, the Blackhawk is certainly worth the price of admission. Recommended by RetroBlast.
Pros
Anodized aluminum box frame
Full-featured USB encoder
Adjustable up/down switches
Accurate, responsive gameplay
Cons
Friction from up/down microswitches
Relatively low tooth count on encoder wheel
Costly
Full Review (dead link)