A
pple iMac Core Duo is the first Intel-powered desktop PC from Apple, which previously use PowerPC G-Series CPUs from IBM. iMac Core Duo features 20-inch LCD and 2 GHz processing power.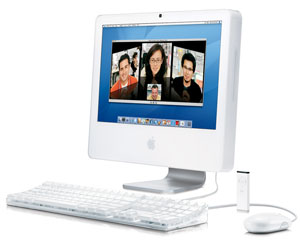 CNet concluded that If you use Photoshop or other nonnative apps, wait or look elsewhere; otherwise, Apple continues its trend of delivering better technology for the same price with its first Intel-based desktop, the iMac Core Duo.
The Good:
Fast native application performance
Same core features as the Editors' Choice-winning iMac G5 for the same price
Updated iLife '06 digital media software included
Faster 3D graphics and memory
Major software vendors have all committed to port over their software
The Bad
Nonnative software runs slowly
Few firm dates on when the software transition will be complete
Check out more Apple iMac Core Duo reviews.
Full Review (dead link)