A
pple iMac Core Duo, as its name implied, is the new desktop computer from Apple that uses Intel Core Duo dual core processor and ATI Radeon X1600 graphics processor, effectively replaces Apple iMac G5 which uses PowerPC processor. Apple iMac Core Duo comes with either 17-inch or 20-inch widescreen flat-panel LCD display, and as usual, with has all the Apple goodies on Mac OS X operating system.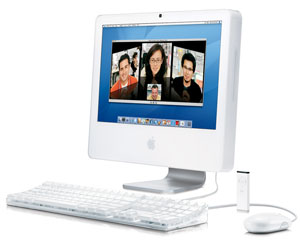 Digital Trends (dead link) reviews Apple iMac Core Duo with 17-inch LCD flat panel, where both should be basically the same, with just the difference of the size of LCD. Digital Trends concludes with score of 7.5 out of 10 that "having tested numerous PowerPC and Intel-based Macs in business, media and general-use scenarios, I feel confident saying that the 17″ Intel iMac is one of the better systems Apple has produced. It stays true to the sexy design that made millions fall in love with it. It runs silently. The screen is beautiful. The hardware and operating system are the most reliable around. It's very fast and can handle most heavy workloads.
Because the design and exterior features of the 17″ Intel-based iMac are not rafter-shaking upgrades from the G5 iMac, it could be easy to discount how good this machine really is. Due to the lack of Universal Binaries for some of the most popular and critical programs, the Intel iMac dominates over the G5 iMac in most, but not all real-world speed tests. However, once all Mac programs are Universal Binaries, the Intel iMac will likely shred through speed tests with nary a bead of sweat."
IMG reviews 17-inch iMac Core Duo and concludes with rating of 9 out of 10 that at $1299, the iMac Intel Dual Core 1.8 is a very good buy. It runs native apps and games at extremely good speeds. Rosetta under most circumstances works like a charm. Running PC games under Boot Camp also work, for the most part, flawlessly.
"About the best complement I can give Apple and this iMac is that it just works. From the moment you plug it in, things work the way they should be. But beyond that, Apple is the only computer company in the world that knows how to make computing "exciting." If you're a Mac user and are looking to upgrade to a price friendly computer, the iMac is the perfect choice. If you are a PC user looking to dump Windows for good, look no further, the iMac is your ticket to friendly, easier, and exciting computing."
SPCR reviews 17″ Apple iMac Core Duo and concludes that the iMac is a computer for the connoisseur and for "Everyman", just as Apple intended. Power users, enthusiasts, anyone who wants to tweak the hell out of everything should probably stick to building their own systems – they'll be happier molding the computer to their own personal quirks. However, for those who want to use a computer, not take up computer building as a hobby, the iMac is among the best there is.
ComputerAct!ve (dead link) reviews Apple iMac 17in desktop computer and concludes with rating of 3 out of 5 that it's good for compact design, good system performance for the price, and has good bundled software, although there is no DVD writer and no internal upgrade slots. Overall the 17in Apple iMac sports a nice price but the lack of a DVD writer is a mistake by Apple.
Check out also review of Apple iMac Core Duo with 20-inch LCD flat panel by CNet.