A
pple MacBook Pro is Apple first notebook computer (laptop) that powered by Intel Core Duo microprocessor. It's also the first Mac notebook computer with PCI Express, Serial ATA hard drive and the ATI Mobility Radeon X1600 for superfast graphics performance. ComputerAct!ve gave a rating of 4 out of 5 for Apple MacBook Pro.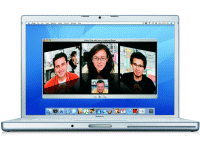 ComputerAct!ve concluded that at a starting price of £1,429, these notebooks are aimed mainly at the professional user, however if you're after speed, great style and want to be the envy of all your friends, than the MacBook Pro should be on your hit list.
Good points
Intel Core Duo processor
Great multimedia applications
Graphics
Built-in video camera
Bad points
Price
Non-native applications not yet compatible with Intel processor
Verdict
The Apple Macbook Pro is a fantastic example of notebook computing and an improvement on older PowerBooks. Just be warned of current compatibility issues.
Full Review (link dead)
Update: Apple MacBook Pro Spring 2010 Refresh