A
pple MacBook is a 13-inch Intel dual core processor-based laptop that effectively replaced Apple iBook and 12″ G4 PowerBook which are based on PowerPC architecture. Apple MacBook is the cheaper, lesser-features and scale-down version of higher-end 17-inch Apple MacBook Pro, and the portable computer features Intel Core Duo T2400 (1.83 GHz) or T2500 (2.0 GHz) processor, iSight camera, Front Row, iLife '06, and 13-inch glossy widescreen LCD display. Apple MacBook is available in glossy black and white models.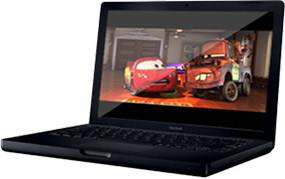 Digital Trends (dead link) reviewed Apple MacBook and concluded with the score rating of 9 out of 10 that "the MacBook is ideal in so many ways. It is light, slim, fast and capable of so much computing power that I find myself NOT wondering when I should trade up. The physical design is impressive and ergonomically wonderful. The screen is beautiful and delivers sharp, vibrant and life-like images. The keyboard is a pleasure to use. The internal architecture, except for GPU, is nearly identical to the MacBook Pro, which means that it is as fast a computer as the much more expensive Pro variant. The Intel-based MacBook surpassed every expectation that I had. I am duly impressed!"
Ars Technica concluded that "Apple's new consumer level laptop is full of new features (iSight, widescreen display, MagSafe power connector, optical audio connections, etc.) and the prices are reasonable. The machine's value is increased exponentially by Apple's foresight to sanction the installation of Windows XP alongside the venerable OS X. Being able to boot into Windows to check out a new Windows app or to play a fun Windows-only game makes me that much happier I made this purchase.
I found it very hard to come up with a list of negatives about the MacBook "while I am usually pretty fond of Apple stuff, I am still usually able to cobble together a list of annoyances I encounter during my use and from around the web. In contrast, I've developed a high opinion of this machine and my anecdotal research for this review seems to indicate that many others are of a like mind. With that in mind, I am giving the Apple MacBook a solid nine."
NotebookReview initial first thoughts review concluded that "the MacBook is a beautiful piece of hardware, the design and look is fantastic and I really like the keyboard. This is all of course dragged down by the heat and crashing issues I've had so far. However, we'll assume that my early production system is an exception and not the rule and Apple will be able to replace it or figure out why my MacBook becomes a bit of a coffee warmer. It's a shame that I can't recommend buying this right now due to the heat issues since that trumps all the other great things about this machine, if others could reply or chime in on their experience with this notebook and say they don't have this problem, I would be hugely relieved and could then recommend. If others are having these same heat issues, well, that's a big concern then."
NotebookReview gave the Apple MacBook black color version laptop the rating of 7.5 out of 10 and concluded that "lot of people compare this to the Sony Vaio SZ because they are both similarly priced and have almost the same specs. However, the Vaio SZ has a much more superior and dedicated video card, Dual Layer burning, an expansion slot, and a memory card reader which are all missing on the MacBook. Other issues on the MacBook such as the heat and cheap feel of the keyboard keep this from being the perfect notebook. Another thing to keep in mind is that the white version of this MacBook at the exact same specs costs $150 less so you have to ask yourself if the color is worth it.
Other than the issues stated above, the MacBook is definitely superior to any iBook and the 12″ Powerbook thanks to the widescreen glossy display, integrated iSight, larger trackpad, and the ability to switch into Windows to run it natively. The screen is definitely its most attractive feature and it really brings out the beauty of the Mac OS. However there is a lot of room for improvement for Apple's MacBook."
NotebookReview also reviewed while color version of Apple MacBook and concluded that "the Macbook angered a lot of people, but I think it just happened to anger the most vocal of Apple fans. I feel this laptop is going to be huge and one of Apples biggest sellers, it doesn't "Complete the family" like Apple says, there's still room for a small form factor Pro laptop and the Macbook isn't it. For the rest of us though I think it's fantastic value for money. I have a few gripes about the laptop with the first being the most obvious: the GPU. Yes the majority of users aren't going to notice but it stinks of cheap for the sake of it by Apple. I imagine their margins could've allowed for a X1300, heck even something as low as a X300 would've sufficed, it's still better then what we have now. From what I've read the GMA950 is an extra $4 over the regular 945 chipset, with prices like that it's not hard to understand why Apple went down this route. All being said I'm happy, very happy with the Macbook. I've previously owned a 12″ Powerbook and I feel this improves on it in every way which mattered to me, I also think it looks a lot better!"
TIME has a first look on Apple MacBook and concluded that "the MacBook is a powerful and affordable option, especially for people who are uncertain about their Windows future. The next version, Vista, might be a success, but with a MacBook you can hedge your bet. You get a computer that runs both Mac OS X and Windows XP today, and even appears to meet the minimum requirements for Vista once it gets here. Dell and HP should be very worried indeed."
Macworld (dead link) used Apple MacBook for a day and its first impression said that the iBook might have gotten a reputation as a compromised low-cost laptop, but the MacBook is as powerful as you – and your bank account – want it to be.
Macworld also has buying advice that "the MacBook is very impressive, not only compared to the iBooks and PowerBook it replaces, but also compared to its new Pro brethren. It offers almost everything that people would need in a laptop. There's not much of a performance difference between the 1.83GHz and 2.0GHz models running Intel-native apps, but Rosetta does somewhat better with the faster processor. If you use non-native apps often, and prefer a SuperDrive to a Combo drive, consider one of the faster models. But if you're a hard core 3-D gamer, the MacBook is not the Mac for you.
And though from a value perspective, the black model isn't as good a deal as the others, the cool black color will be enough for some people – those who want something different, own a black iPod, or need a more professional-looking laptop for work – to justify the cost."
IBN recommends Apple MacBook as Strong Buy and comments that "the 13-inch MacBook is an insanely great value. It's incredibly fast; it has features that you will not find in any other consumer notebooks; and it's inexpensive. If you need great 3D display performance, you'll be better off going with a MacBook Pro. But on the whole, this is a great machine. I bought two of them–one for me and one for my wife–and in no way do I regret it; nor do I feel I've sacrificed performance from my old G5 for mobility. Quite the opposite. In most way, this MacBook is faster than my G5. So basically I get it all–performance, mobility, great features–for about half the price of a G5 desktop."
Pocket-link gave Apple MacBook rating score of 7 out of 10 and the MacBook is a mixed bag. If you are an occasional user looking for laptop that is perfect for doing basic entry level things such as basic photo editing, emailing and watching the odd movie then the MacBook is certainly one to look at. The price while expensive for an entry level laptop, certainly compared to a PC variant, is to a point justifiable as the MacBook does have more flare about it than something that will cut your fingers every time you try to turn it on.
Blogcritics (dead link) concluded that "I really liked it, and I've already started recommending it to my friends. But, given the shortcomings outlined above, such as the overly flexible lid and new keyboard, I'd also recommend buying an AppleCare Plan, just in case."
VNU (dead link) recommends Apple MacBook with 4 out of 5 rating and concluded that Mac fans will lap it up, but PC users might think twice about the 3D performance with good points such as improved performance and comprehensive set of features, while bad points are poor 3D performance and glossy screen may deter some.
PC Magazine reviewed Apple MacBook while compared several laptop in Ultraportable Mania comparison, which include Dell XPS M1210, Gateway E-100M, Lenovo ThinkPad X60s, Sony VAIO VGN-SZ170P and HP Compaq nc2400. PC Magazine concluded that the MacBook 13-inch is Apple's most affordable Intel-Mac notebook, and I'm happy to see it carries over so many of the features and Intel components from the more expensive MacBook Pros. It's the perfect laptop for anyone who wants an Apple system but can't afford the pricier Pro versions.
BostonHerald (dead link) reviews MacBook in Windows and OS X and concludes that the new MacBook is a well-priced laptop that could fit the needs of most consumers. After all, it comes with the simplicity and security of Mac OS X and has many features still in the works for Microsoft's next-generation OS, Windows Vista. Combine the MacBook's ability to run Windows at native speed with Apple's renowned knack for elegant hardware and software, and it's a formula that should give other PC makers nightmares.
NotebookReview again reviews Apple MacBook 1.83GHz Core Duo Laptop and concludes that "Flexibility. Style. Power. The MacBook, while not without flaw, is a great step forward for Apple. It looks wonderful, with clean lines, and stylish design. It retains the easy to use functionality of previous Apple models, while adding new features, and value. The ability to run Windows at full speed for those applications that have yet to introduce universal binaries is tremendous. It is light enough to carry without strain, and yet provides just enough screen resolution for comfortable photo viewing, writing, or design work. I would highly recommend this unit to anyone looking to introduce themselves to OS X, and especially to users of the previous iBook. If you can get past the lack of gaming performance, at $1099, this is one of the best deals on the market."