A
SUS GeForce 7950GX2 is a PCI x16 graphics video card based on GeForce 7950 GX2 chipset. GeForce 7950GX2 is essentially a dual-GPU video card that inserts into a single PCI Express slot, thus allowing 4 GPUs to run with only two PCI Express x16 slots, in standard quad SLI motherboards. ASUS Geforce 7950GX2 video accelerator features 500 MHz GPU clock, 1200 MHz effective RAM speed, 512 MB of GDDR3 memory per GPU for a total of 1 GB, NVIDIA CineFX 4.0 shading architecture, 64-Bit texture filtering and blending, NVIDIA Intellisample 4.0 technology, full and complete DirectX and OpenGL API support, NVIDIA Digital Vibrance Control (DVC) 3.0 technology, NVIDIA SLI technology, NVIDIA UltraShadow II technology, NVIDIA PureVideo technology, Composited Desktop Hardware Engine, dual integrated 400MHz RAMDACs, dual DVO ports and full NVIDIA nView multi-display technology capability.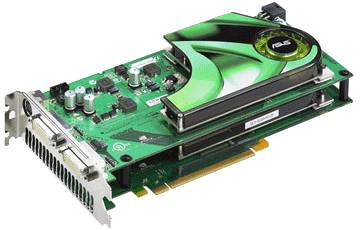 3DAvenue (dead link) reviews ASUS GeForce 7950GX2 and concludes that ASUS Geforce 7950GX2 is quite the videocard. There are a lot of choices when it comes to high end videocards but if you want quality SLI action with a good retail package, but without the hassles of two physical cards, the ASUS Geforce 7950GX2 is not going to disappoint. If you want Quad SLI, I doubt it would disappoint there either. However, given it looks more or less identical to the reference Nvidia design, the premium price of the ASUS version seems to be due to the brand name and software package, and whether or not you want to pay around AU$100+ over other 7950GX2's for the ASUS badge and some extra software and games is up to you. Also, given the price, it would have been nice to see clock speeds above the standard 500/1200 MHz as some other vendors are doing. At the AU$1000-1100 range you could get a 7950GX2 that defaults at 570/1550 – quite a difference, although with that said, at least this ASUS card does have some overclocking room. All in all, another good videocard from ASUS but not the absolute best value on offer.
Hot Hardware (dead link) concludes with Heat Meter rating of 9 that the Asus EN7950GX2 showed itself to be the fastest single card available on the market right now, hands down. No other single graphics card configuration could touch it and its performance advantage was significant in all applications. Furthermore the card, though it runs hot as a pistol, as do all GeForce 7950 GX2 cards, has a fair amount of available overclocking headroom as well. Finally, the EN7950GX2 also compared well versus a pair of ATI Radeon X1900 cards in CrossFire mode in most tests and it should, for its price point, which leads us to our final evaluation.