F
or the rich and famous, electronic gadgets cannot be just a common gadgets owned by everybody else, just like owning a Mercedes-Benz car will certainly show your status. So here come premium gadget PDA Smartphone from ASUS, that also has limited release worldwide. The ASUS P526 Mercedes-Benz C-Class Limited edition Smartphone, as you should know now, is built from ASUS P526 Windows Mobile PDA Phone, so it inherits all its features.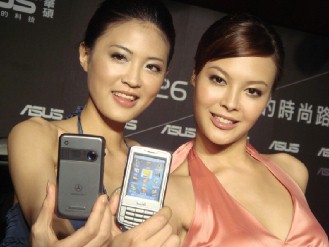 Mercedes-Benz branded ASUS P526 PDA also features Windows Mobile 6, 2.6″ QVGA touchscreen, 128MB ROM, 64MB RAM, an alphanumeric keypad, built-in SiRF StarIII GPS Chipset with TomTom GPS navigation system, a 2 megapixel camera, Micro-SD expansion slot, Bluetooth, WiFi, supports quad-band GSM/GPRS/EDGE, and has dimensions of 110×58×15.4 mm and weight of 115 g. Full specifications below.
What makes it to be a premium Mercedes-Benz phone is that the PDA has Mercedes-Benz logo on the body casing, built-in Mercedes-Benz start and shutdown logo, new C-Class wallpaper and screensaver, GPS navigation system showing Mercedes-Benz showroom location by default, and also you get another Mercedes-Benz logo on your warranty card metallic sticker, been crafted with laser. The whole phone certainly looks very elegant and luxury, just like the car.
ASUS P526 Mercedes-Benz Limited Edition Smartphone has limited circulation of just 699 units worldwide. Of those, 399 units come with additional specially designed Mercedes-Benz gift box with a genuine leather case inside. And it's free, however, it's only given free to the buyer of the new Mercedes-Benz C Class series luxury car. You may try your luck on the next 300 units without gift box, though Mercedes-Benz is yet to decide whether to give away it or sell it to their customers.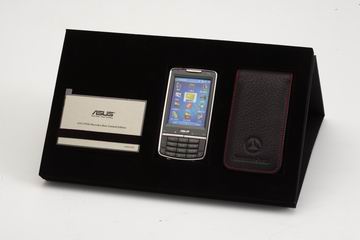 Full specifications:
EDGE/GPRS/GSM 850/900/1800/1900
Microsoft Windows Mobile 6 Professional
2.6 inch TFT display, supports 65K colors, 240 x 320 resolution
TI OMAP 850 (200MHz) processor
MSN, MMS, SMS & Email Messaging
Bluetooth 1.2
USB v1.1
HTTP WAP 1.2.1/2.0
Built-in SiRF Star III Chip (supports GPS navigation)
Micro-SD Expansion Slot
128 MB Flash Built In – 64 MB SDRAM External (MicroSD)
JAVA J2ME (CLDC 1.1 + MIDP 2.0)
128 Polyphonic MIDI Ringtones
2 mega-pixel resolution camera.
AAC, WMA & MP3 Audio
MPEG4 supporting 30 FPS QCIF video / Windows Media Player 10
IE, Word, Excel, Power Point (viewer), MSN, Alarm, Calendar, Organizer, File Manager, Telephone Book, Notebook, InBox, Voice Recognition
Business Functions – Remote Presenter
110 x 58 x 15.4 mm
115g
4 to 5 Hours Talk Time
150 Hours Standby