What is the best media player? This is the question asked by many computer users. Windows operating systems such as Windows XP, Windows Vista, Windows 7, Windows 8 and Windows 10 come pre-installed with Windows Media Player (WMP) and/or UWP apps such as Films & TV and Groove Music (beginning from Windows 8), which may lack many popular codecs for audio and video, and also infamous for resource hogging.
An ultimate and best media player uses little system memory, fast performance speed in opening and playing media, has nicely designed, attractive and not confusing user interface. Least but not last, the player must have built-in all video and audio format and codec support, so that users no need to worry and have headache to unplayable media again.
I have previously introduced GOM Player, now there is even a better player as an alternative media player for Windows operating system that similar with VLC Player (VideoLAN), only with more beautiful and easier to use user interface. The upcoming media player is KMPlayer developed by a Korean named Kang, YoungHuee.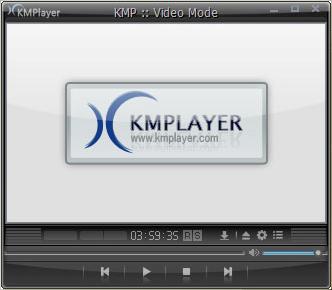 KMPlayer is a versatile media player which can cover various types of audio and video container format which normally known as decoder or codec, such as VCD (MPEG-1), DVD (MPEG-2), AVI (DivX, XviD), WMV, MKV, Ogg Theora, OGM, 3GP, MPEG-4, VP3/5/6, Digital Video, MJPEG, Indeo3, VC-1, FFV1, RealMedia (RealVideo such as RM, RMVB and RealAudio), QuickTime, AC3, DTS, MP2, MP3, Vorbis, AAC, WMA, FLAC, AMR among others. The filters and codecs included almost cover all media format, eliminating the need for users to search and download any decoders again. And best of all, no codecpack which often bundled with spyware or change default system filters is needed.
KMPlayer provides both internal and external filters with a fully controlled environment in terms of connections to other splitters, decoders, audio/video transform filters and renderers without grappling with the DirectShow merit system. Internal filters are not registered to user's system to keep it from being messed up with system filters.
Furthermore, to get beyond the limitation of internal decoders, the external ones such as commercial h.264 decoders or Cyberlink/InterVideo audio decoders can be specified, so that KMP works optimally by the users' own customization. Even though the KMP is based upon DirectShow structure, it supports Winamp, Realmedia and Quicktime by the internal logic. Thus, it is possible to specify where to try to connect firstly the media in preferences.
KMPlayer also supports and handles a wide range of subtitles such as SMI, SRT, SUB, SMIL/RealText, SAA, ASS, and embedded subtitles of MKV, OGM, MP4, MOV, 3GP, with Unicode support, and allows users to capture audio, video, and screenshots in many ways.
Other features of KMPlayer include able to set multifarious audio and video effects, slow down or increase playback speed with regular tone, select parts of a video as favorites, do an exceptionally powerful A-B repeat, remap the keys of remote interface for HTPC including overlay screen controls, change a skin dynamically depending on a media type playing, and many more. It is completely customizable thanks to a wide selection of skins and color schemes, and the configuration options are extremely extensive.
One downside is that users still need to download and install Real Player and QuickTime Player, or their alternative codec, or using trick to extract Real/Quicktime decoders from player, as both codec is licensed by Apple and Real.com respectively.
Download KMPlayer from official homepage.