BlockFi is a non-bank wealth management service provider based in New York city of United States of America that was founded in 2017. BlockFi offers interest-earning accounts for cryptocurrencies, USD loans secured with cryptocurrencies and cryptocurrencies trading to individuals and businesses worldwide. In other words, BlockFi is similar to a bank that provides important financial functions of saving, borrowing and lending of fiat currencies, but in cryptocurrency ecosystem.
BlockFi Overview and Trustworthiness
BlockFi was established by Zac Prince and Flori Marquez. BlockFi have successfully raised over $100m in funding from leading institutional investors and venture capitalists, starting from $1.55 million from ConsenSys Ventures, Kenetic Capital, PJC, SoFi, Purple Arch Ventures and Lumenary in February 2018 and $52.5 million from Galaxy Digital Ventures LLC which was founded by Mike Novogratz in July 2018.

Some of the early investors continue to invest during the BlockFi's Series A fund raising of $18.3 million which was led by Valar Ventures that is backed by Peter Thiel with participation from the Winklevoss Capital, Galaxy Digital, ConsenSys Ventures, Akuna Capital, Avon Ventures, Susquehanna, CMT Digital, Morgan Creek and PJC in August 2019. This was followed by $30 million Series B funding, again led by Peter Thiel's Valar Ventures with participation from repeat investors Morgan Creek Digital, PJC, Akuna Capital, CMT Digital, Winklevoss Capital and Avon Ventures, plus several new investors such Castle Island Ventures, Purple Arch Ventures, Kenetic Capital, Arrington XRP Capital and HashKey Capital.
With the backing of many big names in cryptocurrency space, plus the fact that BlockFi was based in USA which is subjecting itself to tighter regulatory guidelines at the federal and state level in the United States, makes BlockFi a standout among growing industry of cryptocurrency lending and borrowing services. In fact, BlockFi has registered for lending licenses and money transmitter licenses through BlockFi Lending LLC and BlockFi Trading LLC, with all licenses listed here.
BlockFi Services
BlockFi offers 3 main services:
BlockFi Interesting Account (BIA)
Somewhat similar to a bank savings account that earns you interest, but for cryptocurrencies albeit a high yield one. Rather than keeping cryptocurrencies idle in crypto wallet, BlockFi Interest Account lets you earn interest on Bitcoin, Ether, Litecoin and USDC, plus several stablecoins such as GUSD, USDC and PAX by storing the crypto at BlockFi. BlockFi then lends these assets to individual as crypto-collateralized loan, and institutional and corporate borrowers to generate interest.

Features of BlockFi Interest Account, which are categorized to advantages or disadvantages of BIA:
Advantages
High yield.
Interest accrues on a daily basis.
Interest is compounded every month automatically.
No minimum balance to start earning interest.
No withdrawal restrictions.
No lock-up periods.
Interest payment Flex – Normally interest is paid in the same currency of the deposit. With Flex, you can choose which supported cryptocurrency you want the interest to be paid in. However you will lost some interest due to exchange fee.
No spread for USD stablecoins – You get 1 GUSD, USDC or PAX with USD $1, or when exchange among them, unlike some exchanges that have spread between bid and ask prices.
Disadvantages
Accrued interest is paid monthly on the first day of following month.
Tiered interest rate – Higher interest rate only applies up to certain limit of crypto coins.
Currently BlockFi is offering the following APY (Annual Percentage Yield) for support crypto coins (the interest rates and limits do change frequently, updated rates can be found here):
| | | |
| --- | --- | --- |
| Currency | Amount | APY / Interest Rate |
| BTC | 0 – 5 | 6% |
| BTC | > 5 | 3.2% |
| ETH | > 0 | 4.5% |
| LTC | > 0 | 3.8% |
| USDC | > 0 | 8.6% |
| GUSD | > 0 | 8.6% |
| PAX | > 0 | 8.6% |
The interest rate for saving crypto coins with BlockFi is considered good, especially when comparing with what banks currently paying for fiat currencies saving (where interest is approaching 0% or even goes to negative territory). Though not the highest interest rate for some cryptocurrencies, but BlockFi wins for flexibility with no fixed deposit or stacking style lock-down required. But due to tiered interest rate, you may be get the maximum APY for all the coins that you deposited. Do note that interest rates on BlockFi do change frequently, although BlockFi has always made known the changes well in advance.
BlockFi Interest Account Ratings:
Interested to start earning returns from your crypto assets? Create a BlockFi Interest Account using the referral link below to earn a one time bonus of $10 in BTC when you deposit $100+ worth of crypto and maintain the balance for 30 days.
Crypto Loan & Lending
BlockFi offers USD loans to individual, institution and corporation borrowers by using the crypto assets as collateral, allowing cryptocurrency holders to leverage with access to funding without having to liquidate and sell the crypto. BlockFi accepts BTC, ETH, or LTC as collateral, all of which is major cryptocurrency with large capitalization and high trading volume. In addition, BlockFi also provides customizable lending of cryptocurrencies and stablecoins on overcollateralized terms, mainly for enterprises such as market makers, exchanges, and funds for the execution of cryptocurrency trading strategies such as hedging, margin trading, spot trading, derivatives (futures, perpetuals, options), quanto swaps, shorting, arbitrage, maintaining cold wallet, and other speculative trades.
Crypto-backed loans and lending of cryptocurrencies and stablecoins are main pillars of BlockFi's business, which enables it to pay interest on crypto deposits. BlockFi crypto loan rates for U.S. residents are shown in table, though international clients and institutions are charged different undisclosed rates. These loan rates are important to gauge whether BlockFi can afford to continue paying the high yield interest rate on BlockFi Interest Account.
| | | |
| --- | --- | --- |
| LTV (Loan-To-Value) | Interest Rate | Origination Fee |
| 50% LTV | 9.75% | 2% |
| 35% LTV | 7.9% | 2% |
| 25% LTV | 4.5% | 2% |
BlockFi has no penalty for early repayment, so if you payoff early the remaining interest is forgiven. Like typical bank loan, if the collateral, i.e. crypto, decreases add more collateral to maintain the LTV. BlockFi will also return any additional coins from any forks or airdrops that occur during the loan term once the loan is fully paid off as long as the custodian supports that coin.
Cryptocurrency Trading
BlockFi has a trading feature that allows users to trade between several cryptocurrency assets supported by BlockFi platform, which are Bitcoin, Ethereum, Litecoin, Gemini USD, USD Coin and Paxos.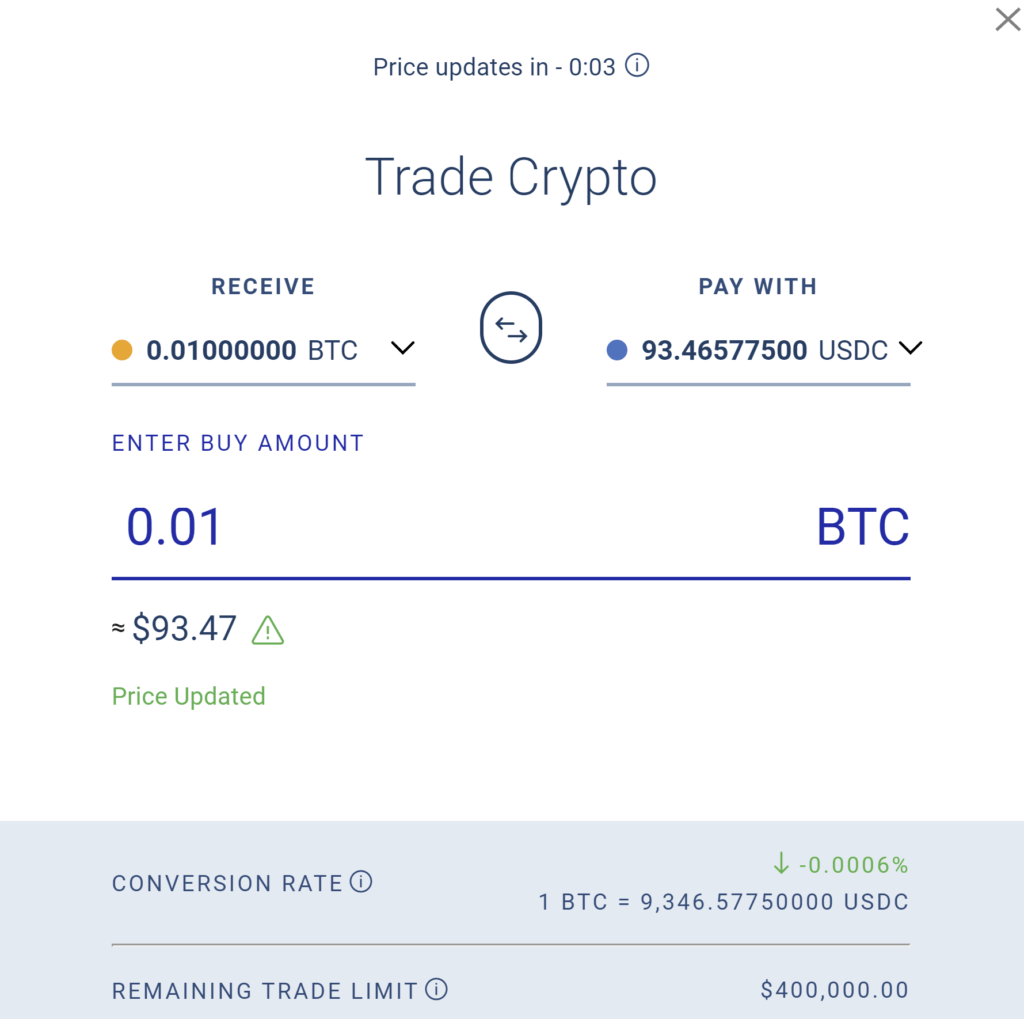 Features of BlockFi Trading, which are categorized to advantages or disadvantages of trading on BlockFi:
Fee-free trading.
New crypto automatically starts earning interest.
No spread and fee to trade between stablecoins, i.e. USDC, GUSD and PAX.
Hidden fee automatically included in the price quoted.
Basic trading user interface.
Limited choice of crypto assets.
No buy / sell option (from fiat currency).
Security
In the cryptocurrency ecosystem, no matter how good is the product, it won't attract investment without security, a really good security, as all crypto assets and loan collateral from the clients has to be deposited with the company. In this aspect, BlockFi keeps the crypto assets under the custodian of Gemini, which is a licensed custodian and regulated by the NYDFS (New York State Department of Financial Services). Gemini has successfully completed SOC 2 (Service Organizations) Type 1 examination by Deloitte & Touche LLP, has digital assets insurance coverage, and lists their security measures here.
For securing online account in BlockFi, 2FA via Google Authenticator app or other TOTP app such as Authy can be setup. In addition, BlockFi has Wallet Address Book so that you can pre-select from frequently used crypto wallet addresses when withdrawing. To enhance the security, you can whitelist the whitelist addresses. No withdrawals can be done for 72-hours after enabling whitelisting. After the 72-hour window, you'll only be able to make withdrawals from the wallet addresses you've added to your Wallet Address Book. Additionally, when Whitelisting is enabled, there will be a 72-hour waiting period before you can make withdrawals to all newly added wallet addresses. Withdrawals are also only processed the next business day after a 24 hour security hold.
Ease of Use
Using the BlockFi is extremely easy. Any cryptocurrencies you transfer into BlockFi immediately starts to earn interest. No staking, no lock-in for any period. Though the user interface of trading and exchange between cryptocurrency pair could be improved.
BlockFi supports deposit of US dollars via wire, which is automatically converted to Gemini USD (GUSD) on 1-to-1 basis upon receiving of wire. BlockFi does not support ACH transfer yet. In addition, when initiating wire transfer, a 8-digit pin must be added in the notes section of the wire so that BlockFi can identify that deposit is from you. Depending on your financial institutions, wire transfer may incur fee and takes between 1 – 3 business days to appear in the account.
All BlockFi Interest Account enjoys 1 free crypto withdrawal and 1 free stablecoin withdrawal a month. The fee waiver only applies to withdrawal to external wallet address. Note that withdrawal is subject to Gemini's withdrawal minimums of 0.003 BTC and 0.056 ETH, or else you may face longer wait for withdrawal to be processed. If you need to wire the fund back to your bank account, BlockFi requires the withdrawal amount of $5,000 USD or more, and is subject to $20 bank fee for domestic wire and $30 international wire.
Risks
Digital currency is not legal tender, is not backed by the governments.
BlockFi Interest Accounts are not subject to FDIC or SIPC protections.
Interest rates are subject to change.
Counterparty risk where counterparties who loan the money or cryptocurrencies may default.
No immediate withdrawal.
Conclusion
BlockFi Overall Ratings and Recommendations:
If you understand the risks and rewards of BlockFi, and want to register a BlockFi Interest Account, visit BlockFi.com and you can use the referral code 95464db7 when signing up to earn a one time bonus of $10 in BTC when you deposit $100+ worth of crypto and maintain the balance for 30 days.
Note that Tech Journey may earn commission or reward from BlockFi when you click on any of the referral links or use the referral code to sign up for BlockFi account.