i
-PHONO mini Bluetooth Stereo Headphone is designed for an active lifestyle, which combines the stylish design and reliable advanced Bluetooth wireless technology. It is able to remote control the music playing functions in your portable device, or uses as Bluetooth headset for mobile phone or computer.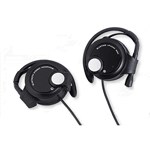 the::unwired reviewed the Bluetooth headphone and concluded that "Wearing the headset is pretty comfortable and the clarity of the stereo sound is excellent. The volume as well as the bass gives you a full music experience and makes it a pleasure to use it for wireless music streaming with mostly every A2DP-enabled mobile device.
Nevertheless, the micro faces some noise problems in a heavy airy environment that you and your partner on the other side might hear some noise, but under strong airy conditions only.
Altogether, the i-PHONO mini headphone is a great Bluetooth stereo headset and hands-free headset to be used with a wide range of mobile devices."