W
hat do freeporn (free porn), FTP (file transfer protocol), Britney Spears, top 5 MP3 players and Blackberry 8800 have in common? They're all the top 5 search terms in CNet website. If you don't know, CNet is the one of the world most popular Internet information provider with focus on computers, technology, and the Internet. Although CNet Network also has gaming and entertainment divisions such as GameSpot, GameFAQs, Metacritic, MP3.com, TV.com, and FilmSpot, however, all of them certainly doesn't related to pornography or adult materials, nor are hosted inside cnet.com domain. So the top 5 search terms for CNet certainly highlight how popular the sexual contents are.
According to the video on CNetTV, the top 5 most popular search terms for CNet are:
BlackBerry 8800
Top 5 MP3 players
Britney Spears
FTP
Freeporn
Well, with all the news surrounding Britney Spears regarding her leaked private parts exposure photos and balding of her head, the term Britney Spears can be equaled with the pornography term. But why surfers go to CNet and search for the pornography and adult related items as in freeporn and Britney Spears on the site is mystery and incomprehensible, as clearly you won't be able to get any search results related to adult content.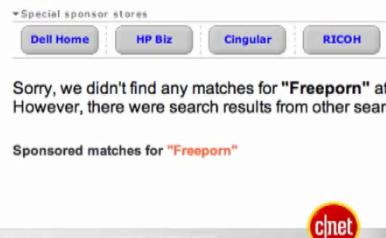 By the way, the video clip also lists out the most popular searched MP3 players, listed down here for a glance.
Toshiba Gigabeat MES30VW
Apple iPod
Creative Zen Vision M
Zune
Cowon iAudio X5L
Well, finally, something else has beaten iPod?