1
0 years ago this day, Princess Diana aka Lady Di was killed in a car crash. At her funeral in Westminster Abbey on 6 September 1997, Elton John, a English pop singer, composer and pianist, sang Candle in the Wind 1997 edition or Goodbye England's Rose to pay tribute to Diana, remembered by many as People's Princess. It turns out that the performance by Elton John in Diana's funeral, where he sang "Candle In The Wind 1997" in public, was for the first and also the only time in history, and likely to be the final time to hear it sang by Elton John in any public concert, as John swore he would never play that version of the song live again due to the emotion involved.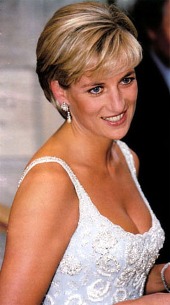 Thus, here a few music videos captured and recorded 10 years ago at Diana, Princess of Wales funeral service, for memories, where Elton John paid tribute to Diana by singing Candle in the Wind England Rose version, the once and only one time you can hear and listen to Elton plays it again.
"Candle in the Wind" is actually a song with music by Elton John and lyrics by Bernie Taupin, originally written and released in 1973 in honor of Marilyn Monroe. The song has previously also been dedicated to AIDS victim Ryan White, with Elton John performed the song in his honor at Farm Aid 4 and at his funeral. In 1997 remake version dedicated to Diana, the first line of lyric was changed to "Goodbye, England's Rose". This version of the song was released as a single version, and easily became one of the world's top best selling single, with top the chart in almost every country in the world. All artist and composer royalties and record company profits from the singles were donated to the Diana, Princess of Wales Memorial Fund.
Elton John never sing Candle in the Wind 1997 version again, even in the Concert for Diana in July 2007 at Wembley Stadium to celebrate the 46th anniversary of her birth, where he sang "Your Song" instead. The song has also never been released on any of his other albums except that one.