C
anon EOS 350D Digital, which also known as Canon EOS Digital Rebel XT in North America and Canon EOS Kiss n Digital in Japan, is an 8.0-megapixel entry-level single-lens reflex (SLR) digital camera. Canon EOS 350D replaces Canon EOS 300D. Canon EOS 350D Digital (Canon EOS Digital Rebel XT) features 8.0 megapixels CMOS sensor, DIGIC II image processor, near instantaneous turn on and wake up times (0.2 seconds), Compact Flash type I and type II capability which supports microdrives, 14 frame continuous shooting buffer, interchangeable EF-S and EF lens, ASA/ISO range of 100, 200, 400, 800 and 1600, built-in pop-up with hotshoe with E-TTL II flash algorithm, mirror lock-up, selectable AF and metering modes, USB 2.0 interface, optical viewfinder and 1.8″ 115,000 pixels LCD monitor.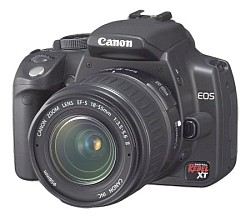 PC Magazine reviews Canon EOS Digital Rebel XT (Canon EOS 350D Digital) and concludes with excellent rating of 5 out of 5 that the Canon EOS Digital Rebel XT is a superbly crafted camera that will please nearly anyone with any interest in photography, from those who want to set their camera on auto to those who want to experiment. And by keeping the price under $1,000, Canon ensures the continued popularity of its Digital Rebel line. "This camera provides a truly excellent value, and we wholeheartedly recommend it."
For more features, specifications and sample images, visit Canon EOS 350D Digital official homepage (no longer available) or Canon EOS Digital Rebel XT official homepage.
Firmware Updates
Latest Canon EOS 350D Digital (Canon EOS Digital Rebel XT) firmware version: 1.0.3
Firmware version 1.0.3 fixes or enhances the following features or improvements:
Fixes the phenomenon of shots being unable to be taken when using the remote controller RC-1.
Fixes the phenomenon wherein the camera continues to scroll through images being played back.
Improves reliability in communication when using some CF cards.