M
anila Bulletin reviews Canon Pixma MP500 Photo All-in-One Printer and the author concludes that when she first saw Canon's newest All-In-One (AIO) printer, she went head-over-heels for her. Among all the printers the writer has reviewed, the Canon PIXMA MP500 Photo All-In-One printer can be considered as the ultimate printer for the minimalist.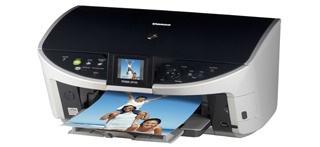 The excerpt of the review as follow. As the page has been removed, I publishes the whole article here.
The Canon PIXMA MP500 Photo AIO printer is based on the inkjet technology of Canon. Very versatile and multi-function, this color printer has many features that can give a seductive temptation to replace your old printer with this baby.
At first impression, the printer is quite a bit bulky, but with a dimension of 448 x 426 x 205 millimeters (W x D x H) and weighs only 9.6 kilograms, it's very light to move it around your humble home or your workplace without too much effort. However, if the need arises to the occasion, it can be stored away in a cupboard or closet when not in use and a user can just take it out when needed.
As we got it on with the review, the software installation was the first to be done. The CD-ROM for the quick start installation guide of the MP500 is very well thought out and quite-user friendly. To tell, setting up the printer on this writer's desk was simple and user-friendly. More so, you can have an option to download the software for free on the Canon's official website. Ahh, Canon does make wonders!
Also, Canon was generous enough to include several sample sets of Canon 4 x 6 Photo Paper Plus Glossy and an additional set of ink cartridges for us to maximize the printer review. And we all of us in Technews did. Okay, let's go on with the review.
The Canon PIXMA MP500 has a large 2.5 inch Liquid Crystal Display (LCD) viewer screen that makes navigation and previewing photos a simple task, thus evaluating images in beautiful, full color and making enhancements before printing them.
The amazing thing about this wonderful printer is that it delivers a great resolution to a minimum of 600 x 600 dpi for black and white (BW) and a whooping 9600 x 2400 dpi for color, that showed remarkable detail and clarity in printouts.
You are maybe asking how the printer does it. Well, it has Canon's Full-photolithography Inkjet Nozzle Engineering (FINE) technology that uses a next-generation 1,856-nozzle print head that ejects precise, consistent droplets as small as 1 picoliter. With this, the resulting printed photos are smoother and virtually grain-free image.
In addition to that, the Canon ChromaLife100 system combines the PIXMA MP500 Photo All-In-One's FINE print head technology and newly developed inks with selected Canon photo papers, with great results rivaling that of many conventional photos.
Furthermore, the Canon PIXMA MP500 has a unique ContrastPLUS 5-color ink system – four dye-based inks (CMYK) and a pigment-based black ink – that produces true-life photos with a wide color palette, along with laser-quality text.
Technews was lucky enough that Canon gave us an additional set of five toner ink cartridges aside from the cartridge set that's already loaded in the printer. We find the ink cartridges very cost-effective because we only needed to replace them as each color runs out, instead of having the whole set replaced each time one cartridge get low on ink. Looks like the competition are going to make a run for their money with this.
We tested the Canon PIXMA MP500 capabilities and Technews was very much impressed. Monochrome printing speed is 30 ppms, color printout speed is 20 ppms, and more importantly, printing a beautiful photo lab quality 4″x 6″ borderless photo takes only 50 seconds. One of the features we love most of this baby is that you can print photos without a PC or laptop using the Direct Printing feature of the MP500. This printer is almost so quiet during printing that the noise can be barely heard.
The MP500 can support, handle and print directly from most types of memory cards including Compact Flash (CF), Microdrive, Smart Media, Memory Stick, Memory Stick Pro, Secure Digital (SD), MultiMedia Card (MMC), xD Picture Card, Memory Stick Duo, Memory Stick Duo Pro, and miniSD. A user with a digital camera can also print photos using the MP500 using PictBridge (sold separately for the MP500).
Have a mobile phone that has Infrared (IrDA) and Bluetooth? The Canon PIXMA MP500 has these wireless connectivity features. When using the IrDA, images and photos taken and saved on your mobile phone can be sent and printed directly through the MP500. The printer automatically prints the photo using the 4 x 6 inch photo paper. As for the Bluetooth, you need to have a Bluetooth receiver (sold separately) for connectivity between your mobile phone and the printer.
Another feature of the Canon PIXMA MP500 that we took notice is direct label printing on DVDs and CDs. The MP500 has a CD-R tray which allows the printing of images onto printable DVD/CDs. This is a great feature if you're burning your photos or music to CD to give out to friends or family as gifts. Hmm, looks like the boys and girls from section "P" (piracy) are sure going to take note of this feature.
Aside from these, including A4, legal, and photo paper, the MP500 can print using most media types. Adding to that, it can also print on envelopes, transparencies, photo stickers, semi-gloss photo paper, and matte photo paper. The maximum capacity of paper that be loaded in its trays is 300 sheets.
The Canon PIXMA MP500 has advanced paper handling features that provide several smart options, including Duplex Printing. The dual paper path allows you to keep photo paper stored in one tray and plain paper in the other – so you can print photos or documents without having to switch paper. You can even print 2 sided reports, saving paper.
As for the MP500 flatbed scanner, it has an Auto Exposure (AE) Copy feature that automatically optimizes reproduction quality based on the type of the original media that a user is duplicating. When scanning photos or graphics, you'll see high-quality 1200-dpi (maximum) reproduction with vibrant 48-bit color depth. The maximum scanner resolution for the MP500 is 1200 x 2400 dpi.
The MP500, being a multifunction device, a user can take "old fashioned" film prints and scan them in for manipulation or for e-mail. But take note, the MP500 is a feed scanner, so it can only take one print/sheet at a time.
The copy function is also very simple to use and has some great functionality. We tested it by copying a 4 x 6-inch photo we wanted to print in A4. Although it took about 3-5 minutes to complete, the results were very good and the pixilation on the page was minimal. We were also able to copy some pertinent documents and when it came out, they were all like carbon copies of the original thing. Does the place Recto, Manila ring a bell?
The printer is compatible with operating system (OS) system requirements that includes Windows 98/2000/Me/XP and Mac OS.X (10.2.4 or later).
Gotta tell, the Canon PIXMA MP500 Photo All-In-One Printer is easy to use and a good buy if you want to do a variety of things such as make cards, print different photo sizes for frames or print labels onto CDs and DVDs.
Overall the MP500 is very simple to install and get started with printing out your memories. If you're after something easy to use and yet functional and adaptable to allow you to do a variety of things such as make cards, print different photo sizes for frames, print onto CD/DVD and print straight from your camera, Technews highly recommends this printer.
Surely, you're going to fall in love with this babe!