C
asio Exilim EX-Z1000 is a digital camera from the stylish series of EXILIM ZOOM digital cameras. Casio Exilim EX-Z1000 features effective 10.1 million pixels on large 1/1.8-inch high-resolution CCD, wide format 2.8-inch 230,400 pixel resolution LCD monitor with maximum brightness of 1200cd/m2, 3X optical zoom, BEST SHOT function, ISO sensitivity up to ISO 3200, Anti Shake DSP, Rapid Flash function, fast power-on, 37 pre-programmed scenes mode, 0.002 second release time lag, high speed picture playback, Quick Shutter function, Auto Macro mode, 9-Point Multi AF function, Direct On function and comes with a Multi-function cradle. More features, specifications and sample images can be found at
Z1000 official homepage
.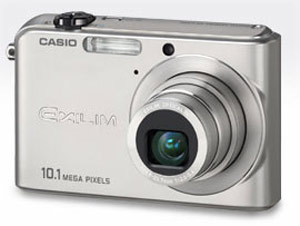 LetsGoDigital recommends the Casio Exilim EX-Z1000 digital camera and concludes that "Casio are keen to increase their market share in the digital camera world, and I believe the current Exilim series of digital cameras will enable them to achieve just that. For now, Casio intend to stick to the compact Exilim series, and will thus not easily be lured onto the path of the digital reflex camera or the hybrid digital camera. The product itself is clear as daylight, and the Casio Exilim EX Z1000 camera takes the number one spot. The camera is equipped with many innovative functions, is economical with its energy, shows an excellent image quality, and is packaged in a high-quality stainless steel housing. In our opinion, the fact that this camera offers 10 Megapixels is not necessarily its main asset; after all, the Casio Exilim EX Z1000 camera already has sufficient potential in itself to seize a market share. Those who are looking for a digital camera, and are open to an abundance of handy and creative functionality, should definitely take a closer look at the Casio Exilim EX Z1000. Besides the silver edition, a black housing will soon become available."
ComputerAct!ve (dead link) gives overall rating of 4 out of 5 to the digital camera and concludes that a high resolution – should you need it – is the chief selling point of the Casio Exilim Zoom Z1000, since its other features are fairly average. Still, it's responsive, looks stylish and is capable of a crisp performance.
HardwareZone writes that "we were very impressed with the level of details and color reproduction shown by the new Casio EX-Z1000. In most cases, images came out very well, especially so for night shots. As for day pictures, color reproduction was slightly warmer, which may or may not suit the preference of everyone. But with a suggested retail price of US$399.99, the EX-Z1000 is clearly a quality digital compact that's also value for money. It's just a pity that there is no built-in optical image stabilization, otherwise for which the EX-Z1000 would make an excellent backup camera for even professional magazine photographers."
Steve's DigiCams concludes that the EX-Z1000 is an awesome addition to Casio's already popular Exilim Zoom line. With robust performance, great image quality, and loads of easy to use exposure modes, this model will make a great choice for anyone in the market for an "ultra-compact" consumer model. And with a street price of $399 or less, it offers an outstanding value for a 10-megapixel digicam.
Personal Tech Pipeline (dead link) writes that EX-Z1000 is clearly aimed at the more-pixels-are-better-crowd, and not at photographers who want to fine tune their photography beyond using presets. One thing to take into account with a 10-megapixel camera, is that the file size is really big. At the same price as the old-and-busted EX-Z850, the new-hotness Casio is packed with extremely powerful features for amateur photography. And even suggests that the digital camera can be used to replace scanner with the availability of preset scene mode for photographing business cards, and another for taking pictures of pictures, or rather old pictures to be precise (the preset "Old Photo" brings faded colors back to life).
TrustedReviews gives an overall rating of 9 out of 10 to Casio Exilim EX-Z1000 digital camera and concludes that despite, and not because of, the megapixel willy-waving, the EX-Z1000 is a superb camera. It possesses first class build quality, brisk performance, outstanding image quality and an innovative and easy-to-use control system that makes it ideal for a first-time user. As to whether you really need 10 megapixels, only you can decide.
PhotographyBLOG concludes with above average rating of 3.5 out of 5 that the Casio Exilim EX-Z1000 is a frustrating camera. It is one of the best-built, well thought-out, feature-rich and quick compact digital cameras that I've ever reviewed. On the other hand, the 10 megapixel sensor is a liability, producing images that look good at first glance, but which upon closer inspection suffer from noise at ISO 200 and faster, purple fringing in many shots, including situations where you wouldn't expect to find it, and almost completely ineffective anti-shake and high-sensitivity modes. In short, I thoroughly enjoyed using the EX-Z1000, but didn't like the images that it produced, which is possibly the worst kind of disappointment. The Casio Exilim EX-Z1000 proves that Casio can build an innovative and intuitive camera that rivals the best models from the likes of Canon and Nikon. Unfortunately it also proves that you can't squeeze 10 megapixels onto such a small sensor without creating some serious image quality issues. The Casio Exilim EX-Z1000 may have grabbed the headlines when it was launched, but unless you only take photos in almost perfect, daylight conditions, and you don't mind purple edges in your images, then the Casio EX-Z1000 is sadly one to avoid.
DigiCamReview reviews Casio Exilim EX-Z1000 in Black and concludes above average rating of 7.5 out of 10 that "Casio Exilim EX-Z1000 is an ultra-compact digital camera with a 10 megapixel sensor, a 3x optical zoom lens, and a large 2.8″ screen. The camera provides speedy performance, a lot of user friendly controls and options, and a compact, stylish metal body. Images provide good color and exposure, but unfortunately lack detail and suffer from excessive noise. The anti-shake mode(s) add even more noise and further degrade image quality. As one of the most compact, highest megapixel digital cameras currently available, the low price makes this model tempting, however I would personally recommend a different camera, as this model's image quality severely counteracts the benefits of the 10 megapixel sensor. It's a shame, as this is a very enjoyable camera to use."