AutoPlay or AutoRun is a menu that pops up and displays or action that executes automatically when a CD or DVD is inserted into CD-ROM or DVD-ROM drive, or when a removable drive such as USB Flash drive, memory card and external hard disk been plugged into the computer. In Windows Vista, the AutoPlay menu is shown, and in Windows XP, a AutoPlay tab is available for the each drive's Properties. The menu lists all the AutoPlay Handlers for each Event that are possible.
In some cases, an orphaned or invalid junk entry might appear in the AutoPlay list of options window, as a result of incomplete uninstall of a software (such as Music match Jukebox, Nikon View etc). The CleanHandlers helps you remove the invalid entries from the listing. Even if you're not aware that an item is invalid, this utility can find invalid AutoPlay entries and also remove them automatically, such as items that as sub-titled as <need provider> or "Select an action to perform" box is completely blank for an event. Users can use CleanHandlers to remove unwanted entries from the AutoPlay window too.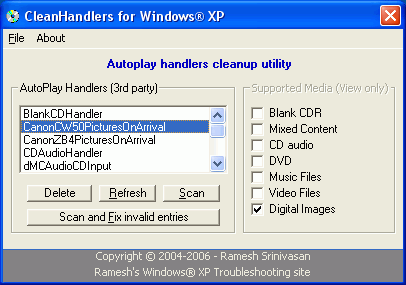 Download CleanHandlers from winhelponline.com.
CleanHandlers current version is 2.4, and supports both Windows XP and Windows Vista.