C
MS Grabber, a popular RapidShare download helper utility, has been upgraded to latest version of 1.4.8 to fix problem bugging previous edition of CMS Grabber 1.4.7A, 1.4.6B, 1.4.6, 1.4.5 and other old versions where changes in RapidShare code and domain name from .de to .com causing the Grabber not working. GMS Grabber v.1.4.8 fixes RapidShare.com grabber and fixes RapidShare.com link checker, and added a few other new features such as Huawei Tool and improved download support for RapidShare.de and RapidShare.com.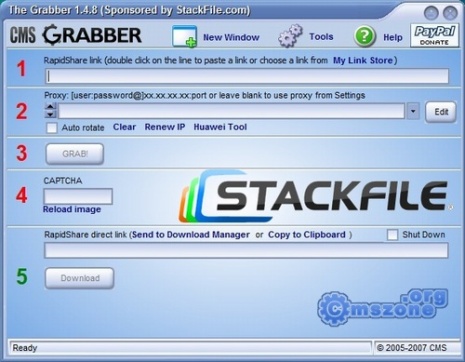 cmszone.org (link dead) explains that Huawei Tool ables to renew IP address for ADSL users using supported hardware such as SmartAX MT882 ADSL router/modem automatically. Although currently only router in USB mode is supported, but Team CodeMasters as cmszone.org, the developer of CMS Grabber promises next version will allow users to specify router address instead force to connect the modem through USB port. This feature definitely enhance CMS Grabber ability to bypass and crack RapidShare download limits imposed on non-premium members, by providing additional way to change IP address other than using proxies.
Download CMS Grabber 1.4.8 directly from cmszone server (no longer available) for free.