i
nclue! Media Inbox is a RSS (real simple syndication) reader that can integrated with Microsoft Outlook and Outlook Express email clients, allowing video, music, news & blog feeds to be delivered to Outlook and Outlook Express (OE) inbox. Then readers can read, view, listen or watch the media feeds from Google Video or Youtube and other media sharing sites directly in Outlook or Outlook Express programs inbox folder, just like reading an email.
In the latest version of inclue! Media Inbox 1.2, the media feeds reader also features ability for users to enter a keyword search and get video updates delivered from Google Video, YouTube and other major search sources. Once a video or audio is found about the interested subject or person, a notification email will be sent to user's Outlook or Outlook Express inbox. By opening up the email, user can watch or listen to the video, podcast or audio directly from the email, without the need to go to YouTube or Google Video websites to watch the media. And users don't have to go to video sharing sites such as YouTube, Metacafe, iFilm, Blip.tv and Google Video too to search for videos they interested in. All searching can be handled by inclue! Media Inbox.
Beside, inclue! Media Inbox also provides Magic Browser Button which allows users to add or subscribe to the RSS web feeds of a particular website they're currently viewing, and have the feeds delivered directly to their email inboxes. Inclue! also supports audio. Viewers can create their own channels and view the videos or listen to the audio directly in Outlook.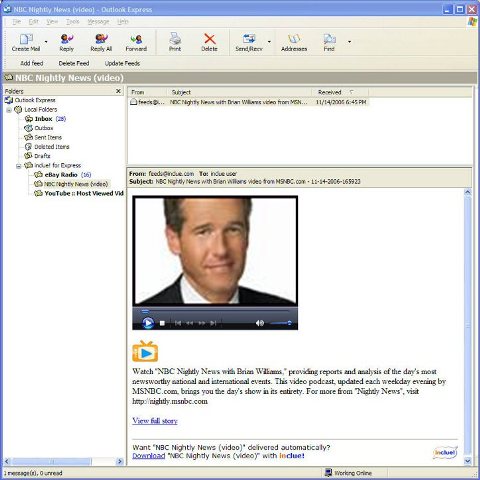 inclue! Media Inbox is compatible with Windows 2000, Windows XP SP2 and Windows Vista, and works on Outlook 2000, Outlook XP or 2002, Outlook 2003, Outlook 2007 and Outlook Express. For web browser, it supports Internet Explorer™ 5+ and/or FireFox™ 1.0+. Once installed, inclue! Media Inbox will be an add-in to Outlook and Outlook Express, and create a new inclue! folder that all feeds notifications which are further organized into sub-folders are sent. Best of all, inclue! Media Inbox is free, and available for public download at inclue! (resource no longer available). However, you will see some inclue! sponsored links at the emails that sent by inclue! when you view them in inclue! pane.