Destiny 2 is an online-only multiplayer first-person action shooter that takes you on an epic journey across the solar system. Destiny 2 is developed by Bungie and published by Activision. Destiny 2 is a relatively new game which was released for PlayStation 4 and Xbox One on September 2017, and for Windows on October 2017. It's the sequel to 2014's Destiny and its subsequent expansions.
In the gameplay of Destiny 2, players assume the role of a Guardian, who need to regain the power called Light stripped by the alien race called Cabal led by the warlord Dominus Ghaul and his Red Legion army, in order to take back and protect the Earth's last safe city called Last City.
To celebrate the anniversary of Destiny 2's PC launch, for the first 2 weeks of November, the full Destiny 2 base game for PC is available as free gift for all new players on Blizzard Battle.net. Do note that the free giveaway of the Destiny 2 is only for the base game. Destiny 2 features expansion packs which adds new content and missions, such as Curse of Osiris, Warmind, Forsaken and etc, all of which requires additional purchase which is not free.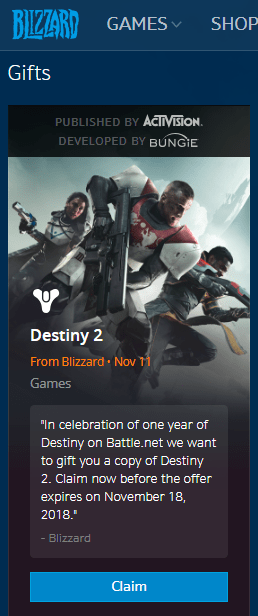 To download and play the Destiny 2 for free, visit https://account.blizzard.com/gifts/ between November 2 and November 18, 2018 and hit Claim button to add the game to your account. You need a battle.net account to claim the free gift, and all new battle.net account needs to enable SMS Protect, Blizzard's two-factor authentication (also known as 2FA), which requires a valid phone number for SMS verification.
Once you own the free Destiny 2, launch the Battle.net app and select the Destiny 2 tab to start downloading and installing the addicting game.
If you already owned the Destiny 2 for Windows PC from Battle.net, you are eligible to receive an exclusive gift of a special in-game emblem marking the game's anniversary that will be available in December.