B
it Che from Convivea is a simple but fast and efficient searcher tool that quickly searches lots of popular Bit Torrent tracker sites for files, and organizes the torrents search results in easy to read format. What makes Bit Che stands up is that the program is in active development with committed developers plus active user forums. Thus users don't have to worry about Bit Che not working for certain sites which undergoing site redesign or layout change. This makes Bit Che a possible better alternative to now almost defunct
Torrent Harvester
.
Bit Che is pronouced as 'bit chay', and is named after the Argentinean word 'Che' which literally translates to mean 'Friend'. Thus, Bit Che is your Bit Torrent friend. Beside, BitChe has many unique features and functions that not available in other torrents searcher program, including ability to instantly preview the torrent details by reading the torrent file directly, easily view the page where the torrent was found, one click to open the torrent in favorite BT client downloader, built-in filtering to remove duplicate torrents found across the different sites that it searches.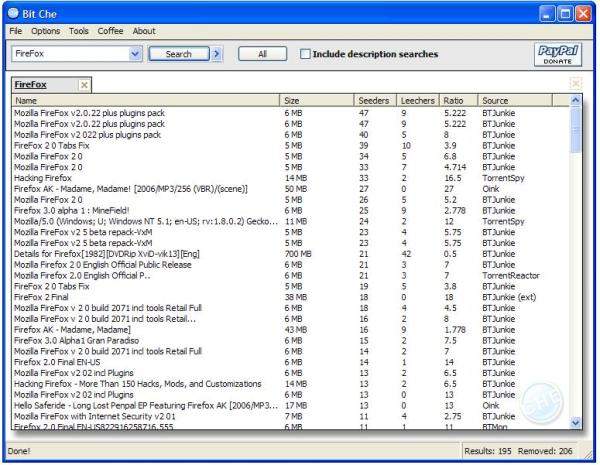 Features of Bit Che:
Super fast torrent searching
Uses 'hyper-fetching' to instantly preview torrent details
Integrates with any torrent download client (uTorrent, etc)
Advanced result filtering (duplicates, file size, -keywords)
Tabbed Searching (Guevara Edition)
Media Type Searching (Guevara Edition)
Morning Coffee Extension (Guevara Edition)
Translated into over 35 languages so far with full Unicode support exected in next Bit Che update – Arabic, BiH, Brazilian, Bulgarian, Castellano, Chinese(Simp), Chinese(Trad), Chinese_BIG5, Croatian, Czech, Danish, Dutch, Es-Argentina, Español, Estonian, Faroese, Farsi, Filipino, Finnish, French, German, Greek, Hacker 1337, Hebrew, Italian, Italian2, Lithuanian, Norwegian, Polish, Portuguese, Romana Diacritics, Romana no Diarcritics, Russian, Slovak, Slovene, Slovenian, Spanish, Srpski, Swedish, Turkish, Ukrainian
Currently, Bit Che supports over 60 sites (the list listed below may have changed due to defunct of sites or availability of new sites) which comes built-in by default in every setup installer package, with additional scripts available for free download after registration at the forum.
Public Sites
* PirateBay.org
* IsoHunt.com
* MiniNova.org
* BTJunkie.org
* EZTVefnet.org
* Mp3Nova.org
* BTMon.com
* BTSwarm.org
* BushTorrents.com
* h33t.com
* MyBitTorrent.com
* NewTorrents.info
* SloTorrent.net
* Snarf-it.org
* TodoTorrents.com (Spanish)
* TorrentBox.com
* TorrentPortal.com
* TorrentReactor.net
* ZeroTracker.com
Registration Sites (user account and password required)
* Araditracker.com
* BitChile.com (Spanish)
* BitNation.com
* BitSoup.org
* BlackCats-Games.net
* BoxTorrents.com
* Demonoid.com
* DidiDave.com
* DimeaDozen.org
* TheDVDClub.org
* FileList.org
* FileMP3.org
* FunFile.org
* HDbits.org
* iPodNova.tv
* IPTorrents.com
* Luciferadreams.org
* Merc-Tech.org
* Midnight-Torrents
* MySpleen.net
* Oink.me.uk (beta support)
* PirateBay.org (members)
* RevolutionTT.net
* SceneMachine
* Snarf-It.org (members)
* Status-X.net
* STMusic.org
* SuperTorrents.org
* Takeabyte.org
* TheBox.bz
* ThePeerHub
* TorrentBytes.net
* Torrent-Damage.net
* Torrential.kicks-ass
* TorrentPhase.com
* Torrents.bol.bg
* Torrents.ru
Bit Che comes in 2 editions, a free edition and Guevara Plus Edition, which requires PayPal donation of at least USD $10, or contribute to development of Bit Che in term of script, translation, user's guide or suggestion, remain an active forum member, or promote Bit Che on MySpace. Anyway if you don't want to pay, BitChe Free edition is equally good with enough functionality to save you considerable time or security risks to search for torrents for the files you want on multiple websites, instead have to crack open all these sites one by one on browser.
Download Bit Che (direct link).
Note: Bit Che may be changing name in future due to pronunciation too similar to 'bitch'. Current leading contender is BT Ninja or Bit Ninja, with Samurai edition replacing Guevara Edition.