M
icrosoft Photo Info is a free software utility from Microsoft for Windows XP and Vista that allows digital photographers or photo collectors to add, change and delete common "metadata" properties for digital photographs, images, pictures or graphics from within inside Windows Explorer. The metadata supported are EXIF, IPTC and XMP. Ms Photo Info also provides enhanced "hover tips" and additional sort properties for digital photos in Explorer when it's in Details view. Previously, only
Picture Taken On and Camara Model
can be read and displayed by Windows XP natively.
The features of Microsoft Photo Info include:
View or edit photo metadata from inside Windows Explorer. Now, advanced image properties are at your fingertips from within Windows.
Edit images individually, or as a collection. Photo Info has two edit modes: individual and collection, making it easy to update many images at the same time.
Quick recall of recent entries. For some properties, Photo Info remembers the most recent entries you have typed. To recall a recent entry, click on the drop down arrow and select it from the list.
Generate copyright notice automatically. Photo Info can generate a standard copyright notice automatically from the Author and date Created information, if present.
Quick recall of location details. To help save time when entering location information, Photo Info can save location details under a name you provide. Recall these details by selecting the location name from the drop-down menu.
Correct EXIF capture date / time information. Photo Info can optionally update the EXIF date/time information as recorded in the image file by your camera. You can use this feature to correct the file capture date if your camera's clock was set incorrectly (for example, to the wrong time zone).
View EXIF properties. Click on the Details tab to view common EXIF properties. Click on More properties for additional details.
Preview the image. To see a larger preview of the image, double-click on the thumbnail.
Enhanced hover tips. Hover tips have been enhanced for JPEG, TIFF and other supported file types in Windows Explorer.

Custom column properties. In Windows Explorer when viewing a folder in Details view, additional sort properties are available for supported image types.
Download Microsoft Photo Info 1.0 (no longer available).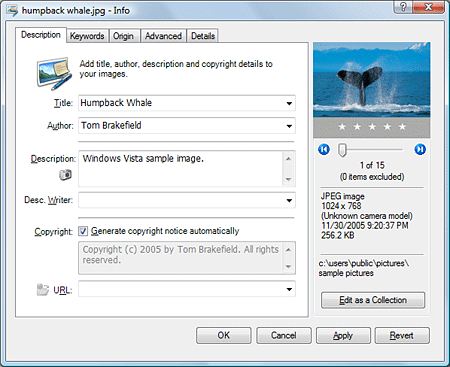 After installing Photo Info, a new "Photo Info" menu item appears on the right click context menu for files selected in Windows Explorer. To use and access Photo Info function, simply select one or more image files, right-click on them and choose "Photo Info" to open the Photo Info properties editor. Use the tab pages to choose the properties you wish to view or change, then click OK or Apply to save your changes. Microsoft Photo Info does not modify the image pixel data in any way when saving changes, and only valid metadata properties are updated or added to the image file. Beside, it's possible to edit metadata for files individually, or all together as a batch.
Photo Info supports, reads and writes metadata in most of the common IPTC (International Press Telecommunications Council) properties and XMP formats (depending on file type) used in digital photography workflows. Photo Info supports common image file types of JPEG, TIFF, WDP, HDP (HD Photo), NEF, CR2, and CRW, with more supports plan in future release.
Microsoft Photo Info runs on 32-bit versions of Windows XP (with Service Pack 2 or later) with Microsoft .NET Framework 2.0 runtime installed or Windows Vista operating systems.