Good news for users who can't successfully passed the WGA (Windows Genuine Advantage) validation requirement. Internet Explorer 7.0 (IE7) now available free for everyone running Windows system, no matter it's genuine or pirated version. There is no longer Windows Genuine Advantage validation requires during downloading and installation of IE7. Thus, the hack and direct download link for IE7 setup file is no longer required (although direct download links still applicable if you don't even want to visit Microsoft website).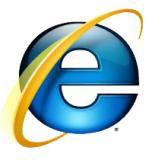 IEBlog described the change of heart of Microsoft on free download of IE 7.0 for non-genuine Windows users due to its commitment to help protect the entire Windows ecosystem seriously. However, the fact is probably due to serious threat from alternative web browsers especially by Mozilla FireFox, and Apple Safari latest entry into Windows desktop, which both available for free download.
IE7 features built-in phishing filter, tabbed browsing, QuickTabs, shrink-to-fit printing, easily customizable search box, CSS improvements, expendable via add-ons, and is the only browser with native support Extended Validation SSL Certificates that help prevent online fraud. Since its release, several changes and enhancements have also been made on IE7 for Windows XP:
The menu bar is now visible by default.
The Internet Explorer 7 online tour has updated how-to's. Also, the "first-run" experience includes a new overview.
Included a new MSI installer that simplifies deployment for IT administrators in enterprises.
Download Internet Explorer 7 for Windows XP and 2003 from Get It Now page (no longer valid). You can also directly download the installer with IE 7 direct download links without visiting Microsoft sites.
Update: Internet Explorer 8 (IE8) is now available for free download.