M
icrosoft has pushed out the flighting of the Windows 10 Build 10240 of retail channel to Windows Insiders on both Fast and Slow ring, in a latest attempt to beta test the Windows 10 upgrade path to iron out all possible bugs and errors when performing the upgrade.
Windows 10 Build 10240 is widely believed to be the gold master RTM release of Windows 10, which was sent to OEM manufacturers to load on the new PCs and tablet devices, and packaged into Windows 10 retail boxes for sales to consumer, essentially "released to manufacturing" (RTM). However, Microsoft has decisively toned down the concept of RTM milestone in Windows 10. Instead, Microsoft compiled and signed off an OEM Build for the purpose of distributing through offline channels, but it will be continuously updated through ZDP (Zero-Day Patch) for minor issues, unless there are major bugs been found, where new build will be issued. ZDP and other updates will increase the minor version of Windows 10, but not changing its major version (build number). For example, from 10240.16384.150709-1700.th1 (the full build string number of build 10240) to 10240.16387.amd64fre.th1_st1.150711-1429 or even 10240.16388 and so on.
Thus, Windows 10 Build 10240 may not be the final gold master RTM build that is released via Windows Update to general public through online electronic software download (ESD) via Windows Update on July 29th, 2015, the general availability date. The most likely scenario is, if indeed the Windows 10 Build 10240 is the RTM version, it will be released together with various ZDPs to fix various bugs discovered since the build was compiled.
Microsoft is pushing "Windows as a Service" concept where a device running Windows will continue to receive updates and upgrades for improvements and features for the life of the device. In fact, once you upgrade to Windows 10 Build 10240, you will start to receive routine update immediately.
For Windows 10 Build 10240, Microsoft wants Windows Insiders to use normal upgrade path to install it, thus no official ISO images are been published. But thanks to ESD decryption and conversion, many homebrew Windows 10 Build 10240 ISO with the name of such as en_windows_10_pro_10240_x64_dvd.iso, 10240_CPRA_X86FRER_en-US_DV9.iso, 10240_CPRA_X64FRER_en-US_DV9.iso and so on already available on Internet, in case you want to perform the clean installation, upgrade your Windows 7 and Windows 8.1 via the ISO images or burn it to DVD or USB flash drive.
In addition, the prerelease Windows Insider product keys will no longer activate Windows Insider preview build installed freshly since Windows 10 Build 10162, unless it's through upgrade via Windows Update for devices already running a preview build. Officially, if you're not yet install a preview build from Windows Insider program on a device, you will need to wait till July 29th, 2015 to perform the upgrade.
File name of ESD for en-US version:
32-bit (x86) Enterprise: 10240.16384.150709-1700.th1_cliententerprise_vol_x86fre_en-us_6dcd2b206412f4e5315c44b8693d0f3f6a5da9d1.esd
64-bit (x64) Enterprise: 10240.16384.150709-1700.th1_cliententerprise_vol_x64fre_en-us_54d610e4e51a30e8f3e2e404cb3694e2af376756.esd
32-bit (x86) Pro: 10240.16384.150709-1700.th1_CLIENTPRO_x86fre_en-us.esd
64-bit (x64) Pro: 10240.16384.150709-1700.th1_clientpro_ret_x64fre_en-us_9d40e15f430ab89a1eabb165acbf40c9f07d18bb.esd
Download Windows 10 Build 10240 via Windows Update.
There is no expiry date or evaluation remark in "WinVer" and no desktop watermark in the installed system. If you're not an Windows Insider, and can't wait for official release by Microsoft, you can now upgrade Windows 7 or Windows 8.1 to Windows 10 manually.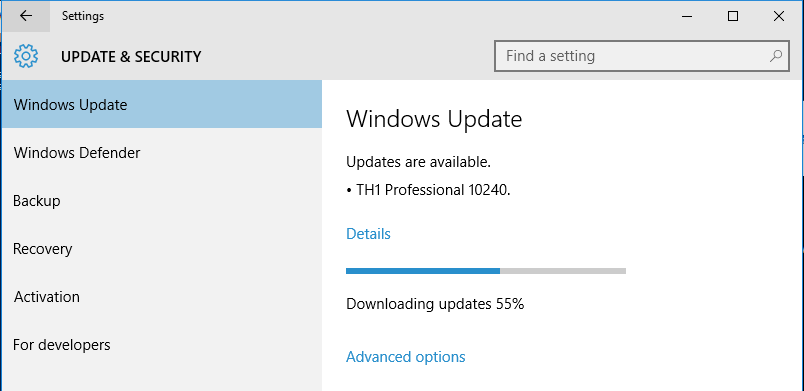 Update 5: Windows 10 November Update v.1511 (Build 10586) | Download Windows 10 version 1511 Fall Update ISOs
Update 4: Windows 10 Build 10525 – post-RTM preview build release for Windows Insiders
Update 3: Official Windows 10 ISO images released.
Update 2: Windows 10 Build 10240.16386 + ZDP has been downloaded to eligible Windows 7 and Windows 8.1 systems that reserve the free Windows 10 upgrade. Windows Update has also triggering notification for users to upgrade to Windows 10.
Update 1: Windows 10 RTM OEM ISO images have leaked.
Highlights of Windows 10 Build 10240 according to Microsoft:
Microsoft Edge is blazing fast!

The Edge team has been continuing to optimize performance since first adding the new browser to Windows 10. In this build, Microsoft Edge is even better and is beating Chrome and Safari on their own JavaScript benchmarks:

On WebKit Sunspider, Edge is 112% faster than Chrome
On Google Octane, Edge is 11% faster than Chrome
On Apple JetStream, Edge is 37% faster than Chrome

Windows 10 App Development

Developers working on Windows 10 will have the first opportunity to upload Universal Windows Applications to the Windows Dev Center using production quality Windows 10 tools on July 29th.

Office on Windows 10

There are a few changes to the apps coming up that are part of helping them get ready for their release with Windows 10. You may have already noticed that on PCs and tablets we've added "Mobile" to the app names (to help distinguish them from the Office desktop suite), while on phones we simply call the apps Word, Excel and PowerPoint. We will also remove "Preview" from the app names and in about one week, you will need an Office 365 subscription to edit on Windows 10 PCs and larger tablets.

Viewing and most editing will remain free for non-commercial use on devices of 10.1" or less. Otherwise, you will need a qualifying Office 365 subscription. If you don't have an Office 365 subscription, you can sign up for a free trial at www.office.com/try. You can also always edit your documents for free in Office Online at www.office.com. The full featured OneNote Universal App will come installed with Windows 10 and similar to OneNote on all other devices, editing is free.
Windows 10 - Important Information