Kaspersky Internet Security 2009 and Kaspersky Anti-Virus 2009 (both version 8.0) is the latest version of security products from Kaspersky Lab. Kaspersky Internet Security (KIS) 2009 and Kaspersky Anti-Virus (KAV) 2009 features a full HIPS system for application control and improved detection for suspicious packers and advanced heuristics to proactively detect new malware.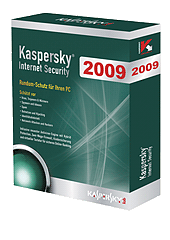 Both products also comes with new Antivirus Core engine, vulnerabilities database, improvement on speed of overall product components, lower system wide footprint, new updatable Anti-Rootkit, security analyzers and Wizards, advanced reporting capabilities, whitelisting technology, virtual keyboard, database of malicious URLs, new product design and "improved" reports.
German and French language versions of Kaspersky Internet Security 2009 and Kaspersky Anti-Virus 2009 build version 8.0.0.357 has been officially released days ago. Users using German and French locales can download the the full version, upgrade and trial 3-in-1 setup installer from respective country site (i.e. Kaspersky German), or use the direct download links below.
However, for users who want English edition of KIS 2009 and KAV 2009, the official launch date for English editions are scheduled on 1st July 2008, few weeks from now. For users who can't wait or not patient, here's the direct download links to the official final version of KAV 2009 and KIS 2009 English editions version 8.0.0.357, the same version that been released for German and French editions. So while the download links are labeled as Technical Release Download links has been updated to reflect final release official setup installer, so it's feature complete final products.
Kaspersky Internet Security 2009
English: kis8.0.0.357en.exe
French: kis8.0.0.357fr.exe>
Russian: kis8.0.0.357ru.exe
German: kis8.0.0.357de.exe
Kaspersky Anti-Virus 2008
English: kav8.0.0.357en.exe
French: kav8.0.0.357fr.exe
Russian: kav8.0.0.357ru.exe
German: kav8.0.0.357de.exe<
Note: All released version can also be downloaded from http://www.kaspersky.com/productupdates.
User with an existing valid license or activation code for Kaspersky Internet Security or Kaspersky Anti-Virus 6.0 or 7.0 can upgrade to corresponding KIS 2009 or KAV 2009 for free for the remaining licensed subscription period. There is also free 6-months subscription activation code to activate KIS 2009 or free 1 year serial license key for KIS. KIS and KAV 2009 supports both 32-bit and 64-bit (x86 and x64) Windows Vista.
Update: Kaspersky Anti-Virus 2010 final and Kaspersky Internet Security 2010 have been released.