Microsoft has released the first cumulative update (CU) for Windows 10 Spring Creators Update (SCU) version 1803, codenamed Redstone 4 (RS4), to Windows Insiders on the Fast, Slow and Release Preview rings, ahead of its general availability which could be anytime. The cumulative update KB4100375 will increase the build version of Windows 10 version 1803 to 17133.73 (10.0.17133.73).
According to Microsoft's changlog, KB4100375 includes the following quality improvements, security patches and bug fixes, while bringing no new OS features:
Addresses a PDF security issue in Microsoft Edge.
Addresses an issue that, in some instances, prevents Internet Explorer from identifying custom controls.
Security updates to Internet Explorer, Microsoft Edge, Microsoft scripting engine, Windows kernel, Microsoft graphics component, Windows Server, Windows cryptography, and Windows datacenter networking.
While the changelog is short, the cumulative update is expected to bring many bug fixes that are not listed. Microsoft is rumored to originally schedule to release Windows 10 Spring Creators Update on April 10th, 2018, but the release date has been delayed, probably due to show-stopper bugs.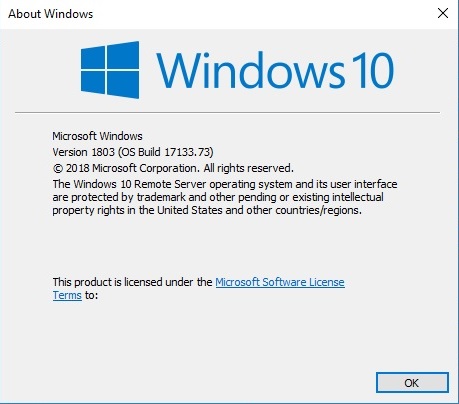 To get the latest cumulative update for Windows 10 v.1803, Windows Insiders can check for updates in Windows Update. The hotfix is named as Cumulative Update for Windows 10 Version Next (10.0.17133.73) in the Windows Update of Windows 10 Spring Creators Update v.1803.
If you're not a Windows Insider, or the PC does not join the Windows Insider program as you're installing using ISO image or Media Creation Tool, you can manually download the cumulative update's CAB cabinet file, and then install it.
Download KB4100375 (x64 64-bit): windows10.0-kb4100375-x64_1df891e137e7b949c68013166ce2fdb6b28f230b.cab
Download KB4100375 (x86 32-bot): windows10.0-kb4100375-x86_53f1f85c08723d7085edf3d3859bf120413e5283.cab
Download KB4100375 (arm64): windows10.0-kb4100375-arm64_f07afeae447c1bd2edc01194fe0979e06602d747.cab
To install the CAB file, open a Command Prompt as Admin use the following command:
DISM.exe /Online /Add-Package /PackagePath:C:\Downloads\KB4100375.cab
Replace C:\Downloads\KB4100375.cab with actual path and file name for KB4100375 CU that you downloaded. Restart the computer for the changes to take effect.
Update: Windows 10 Redstone 4 Spring Creators Update Build 17134