Microsoft has removed the 'preview' label for it's Microsoft Edge for iOS and Android which was introduced by Microsoft last October. Microsoft Edge is designed for Windows 10 users to browse across devices either PC or mobile device without disrupting their flow.
One of the standout features of Microsoft Edge for iOS and Android is the ability to sync data and content seamlessly in the background. Therefore, the users can save the web page from their mobile device and open the page right on their PC later.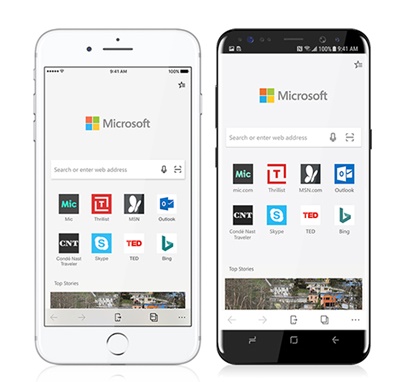 Features of the Microsoft Edge for iOS and Android include:
Continue on PC: Go anywhere and pick up where left off by seamlessly moving content between mobile device and PC (requires Windows 10 Fall Creator's Update).
Hub View: With your favorites, reading list, history and books all in one place, finding and managing content is made simple.
Data Sync: Your favorites, passwords and reading list are synced across devices, so no matter the device, the browser is always personalized.
QR Code Reader: Easily read QR codes at the touch of a button. Microsoft Edge will pull up the reading and information right onto screen.
Voice Search: Able to use your voice to search the web. Ask a question or speak a prompt to use the web in more natural, familiar ways.
InPrivate: When browse with InPrivate mode, the browsing data (like your history, temporary internet files and cookies) isn't saved on your PC once you've finished.
The Microsoft Edge for iOS and Android is now available as a free download in the Apple Store and Google Play Store.