The Windows 10 May 2020 Update, aka Windows 10 Version 2004, codenamed Windows 10 20H1 during development, has reach general availability (GA) stage, with Microsoft officially releases the major feature update to general public through Windows Update, with the final RTM build at the time of GA is OS build 19041.264.
In addition to Windows 10, Microsoft has also made available Windows 10 Version 2004 ISO disc images, which contains Windows 10 Build 19041.264 in Updated May 2020 version. Initially only available for subscribers to Visual Studio or MSDN, the ISO images of Windows 10 Version 2004 final RTM version is also available to the general public with the official release of Windows 10 May 2020 Update.
The preferred method of Microsoft for the public to download ISO image of Windows 10 is creation through Media Creation Tool, of which Media Creation Tool v.2004 is released for free download. However, Microsoft also allows direct download of Windows 10 Version 2004 ISOs from its server through "Download Windows 10 Disc Image (ISO File) web page, albeit not from a Windows device.
The official ISO disc images for Windows 10 Version 2004 Build 19041.264 (updated May 2020 and any newer version when released) can be downloaded from https://www.microsoft.com/en-us/software-download/windows10ISO.
However, to access the "Download Windows 10 Disc Image (ISO File)" page, you need to browse the hyperlink via non-Windows operating system, such as Linux or macOS. Otherwise, you'll be redirected to "Download Windows 10" page which provides download of Update Assistant or Media Creation Tool (which you also can use to create ISO file indirectly). If you don't have non-Windows OS, try to change user agent of web browser to set it to identify itself as surfing from non-Windows operating system.
The following guides show you how to change user agent in popular web browsers.
How to Change User Agent in Firefox
You can change user agent in Firefox easily via add-on or manually via about:config advanced configuration. Then visit the Windows 10 ISO download page listed above.
How to Change User Agent in Chrome, Edge, Opera, Vivaldi, Brave & Chromium-based Browser
Go to Download Windows 10 Disc Image (ISO File) web page listed above.
Press Ctrl + Shift + I to open Developer Tools.
Click or tap on Menu button (three dots) to customize and control DevTools.
Uncheck the Select automatically checkbox under User agent.
From the dropdown list, select an option that doesn't indicate Windows, e.g. Android, Blackberry, iPhone, iPad, iOS, Mac, Linux etc. Browser choice does not important.
Reload the page and makes sure that the page is redirected to URL that ends with "windows10ISO".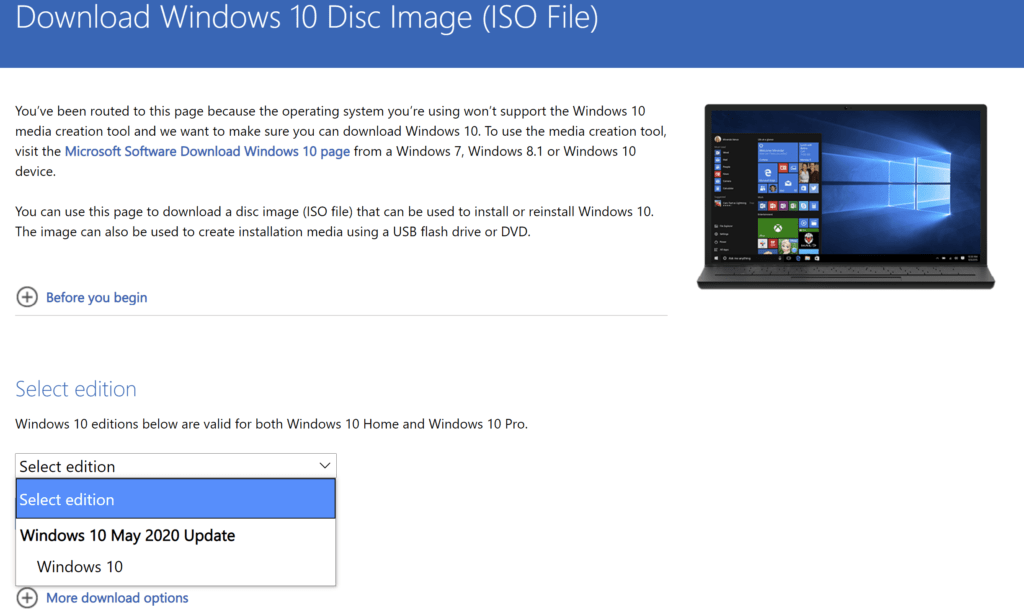 Once you can access the Download Windows 10 Disc Image (ISO file) web page, you are presented with option to select the Windows 10 edition, i.e. Windows 10 May 2020 Update, that you want to download. Then select the language, and you'll be given unique direct download links to 32-bit and 64-bit of Windows 10 ISO disc image files. The links are valid for 24 hours.
Remember to reset the User Agent to original default after the download starts in Firefox. In Chromium-based browser, user agent automatically resets once you close Developer Tools pane.