Dragon Ball Z is a popular Japanese anime television series produced by Toei Animation, where its dubbed version is equally popular in the United States, Canada, Europe and other territories. Dragon Ball Z was aired in Japan on Fuji TV from April 26, 1989 to January 31, 1996, running for astonishing 291 episodes. While it's old, the series has been considered by anime fans to be the classic.
If you're into Japanese anime dubbed in English, the entire Dragon Ball Z: Season 1 in digital HD format is available for free online streaming or download via Microsoft Store, thanks to Microsoft's Anime Month promotion. The entire first season of Dragon Ball Z contains 39 episodes, and usually costs $29.99. All of them now available for free for a limited time.
Dragon Ball Z is the sequel to the Dragon Ball anime and adapts the latter 325 chapters of the original 519-chapter Dragon Ball manga series created by Akira Toriyama. The season one of Dragon Ball Z tells the story of Goku, the strongest fighter on the planet, and his son Gohan, as Goku is torn between humanity and villains after revelation that Goku is actually a Saiyan sent to destroy Earth who lost the memory of his mission. Joined in battle by the Z-Fighters, Goku travels to distant realms in search of the magic powers of the seven Dragon Balls!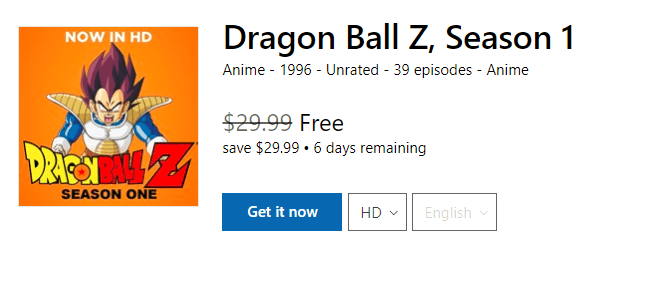 Visit the Microsoft Store's Dragon Ball Z Season 1 web page, and login with a Microsoft account to own and download or watch the TV series for free. No credit card or premium subscription required.
The giveaway of season 1 ends on July 24th, 2018, and the TV shows is available on Windows PC, macOS, Xbox One, mobile devices and HoloLens.