P
eerSpider allows users to search multiple P2P (peer to peer) BitTorrent torrents tracker sites for files, musics, MP3s, movies, videos, software, games, adults, ebooks and etc that users need to download with one single click. With PeerSpider, which in essence similar to
Torrent Harvester
or
Bit Che
, users no longer need to jump and change from one tracker to another site on web browser to search downloads tiredly and direly due to threats of pop-ups, virus or Trojan infection. A little different though, in Peer Spider, query results from each site appear in their own tabs for easy browsing.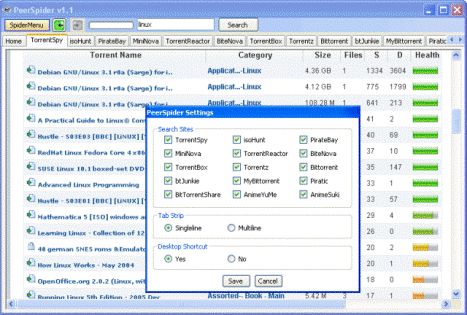 Features of PeerSpider
Ability to add custom sites.
Each sites opened in it own tab, making easy to view separation.
PeerSpider automatically checks for updates at runtime and informs you if any are available.
You can remove or re-add site tabs from the settings menu.
PeerSpider does not need to be installed, just unzip and place the PeerSpider.exe file anywhere you like. To remove or uninstall just delete the file.
Download PeerSpider version 1.2 from here (no longer available). Microsoft .NET Framework 2.0 (x86 (no longer available) or x64)is required in XP or lower (Vista built-in by default). No installation is required, simply unpack the archive and run the executable to use PeerSpider.
Torrent sites supported include TorrentSpy, TorrentReactor, Demonoid, NewTorrents, SpyNova, DownloadAnime, isoHunt, BiteNova, Bittorrent, ExtraTorrent, Snarf-it, PirateBay, TorrentBox, btJunkie, 2Torrrents, AnimeYuMe, MiniNova, TorrentZ, MegaNova, TorrentMatrix, and AnimeSuki.
Changelog for PeerSpider v1.2 (27 Feb 2007)
Added 9 more torrent sites (21 total)
Added ability to add your own sites (5 custom sites)
Added top searches (enabled later on the site)
Works on Windows Vista (out of the box)
Removed 3 sites (constant popups and spam – mybittorrent + bittorrentshare | offline – piratic)
Disabled 1 site by default (Torrentspy – excessive malware popup adverts. Enable it if you want it from settings)
Cant use "%" or "$" in search terms? Install the latest Macromedia Flash player. (peerspider does not use flash, websites do)