SyncToy is a free synchronization software utility for Windows which helps users to copy, move, rename, and delete files between folders on local or remote computers and mobile or portable devices such as digital cameras, cell phones, portable media players, camcorders, PDAs, and laptops. SyncToy 2.0 is an upgrade from SyncToy 1.4 which enhances the application with a redesigned sync engine for better performance and scalability. SyncToy v2.0 is currently in beta.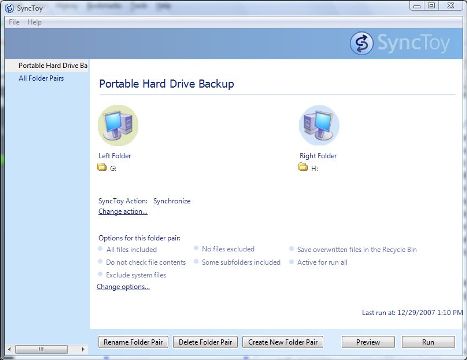 SyncToy 2.0 has all the functionalities of SyncToy 1.4, plus features listed below that are enhanced, added or improved in SyncToy 2.0:
Dynamic Drive Letter Assignment: Drive letter reassignment will now be detected and updated in the folder pair definition.
True Folder Sync: Folder creates, renames and deletes are now synchronized for all SyncToy actions.
Exclusion Filtering Based on Name: File exclusion based on name with exact or fuzzy matching.
Filtering Based on File Attributes: The ability to exclude files based on one or more file attributes (Read-Only, System, Hidden).
Unattended Folder Pair Execution: Addressed issues related to running scheduled folder pairs while logged off.
Folder Pairs With Shared Endpoints: Ability for folder pairs associated with the same or different instances of SyncToy to share end-points.
Command line enhancements: Added the ability to manage folder pairs via the command line interface.
The SyncToy engine has been rearchitected to provide scalability and the ability to add significant enhancements in future releases.
Sync engine is also more robust insomuch that many single, file level errors are skipped without affecting the entire sync operation.
Sync Encrypted Files: Sync of Encrypted files works when local folder and files are encrypted, which addresses the common scenario involving sync between local, encrypted laptop PC folder and remote, unencrypted desktop PC folder.
64-Bit compatibility.
Folder pair rename.
Sub-folder Exclusion Enhancements: Descendants creates under excluded sub-folders are automatically excluded.
Folder Pair Metadata Moved: Folder pair metadata removed from My Documents to resolve any issues with server-based folder pair re-direction setup.
Removed combine and subscribe actions.
SyncToy 2.0 requires Microsoft .NET Framework v2.0 to run. Download SyncToy 2.0 or directly download SyncToySetup.exe (no longer available) from Microsoft Download Center.
For users who interested to know more information about SyncToy 2.0 such as benefits for photographers, how to use SyncToy, how SyncToy works and its limitations, download and read the SyncToy 2.0 white paper (no longer available).
Update: SyncToy 2.0 Final