T
he new official and latest build for Windows Insider program have been released to the Windows Insiders who are on the Fast ring. The new build is Windows 10 Build 10158, from fbl_impressive branch and has the full build string of 10158.0.150625-1753, indicating that the build was compiled and signed off just few days ago. The official release of Windows 10 Build 10158 came a month after the last official release of
Windows 10 Build 10130
, although several leaks have appeared on the Internet.
Windows 10 Build 10158 is packed with improvements to stability and quality as well as some additional UI polish. It also has some great new features included for Microsoft Edge as well. The stability of the Windows 10 as it approaches RTM is greatly improved, and Microsoft has indicated that there is no significant known issues for Windows 10 Build 10158.
We don't have any significant known issues for this build worth noting in the blog post but we are servicing several issues so make sure you check Windows Update for those.
There is no ISO images released for Windows 10 Build 10158 yet, as it's currently only for the Fast ring users. Thus, to get the latest build, update it via Windows Update. If you need to fresh and clean install, you will need to download and install with Windows 10 Build 10130 ISO and then upgrade. And do also note that from now on, you need to sign in to Microsoft Account (MSA) to get insider builds, including this build.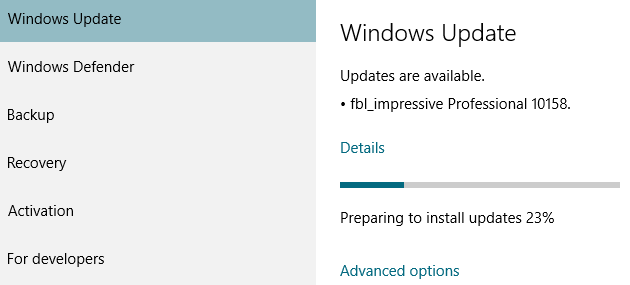 Download and update to Windows 10 Build 10158 via Windows Update.
Update: Windows 10 Build 10159
New Features and Enhancements in Windows 10 Build 10158
Microsoft Edge: Microsoft Edge branding is now included.
IMPORTANT: Microsoft Edge has a new app ID that will cause any favorites, cookies, history and Reading list items that you had saved in "Project Spartan" from previous builds to be lost after upgrading. If you want to keep these, make sure you back up your favorites before upgrading to Build 10158. To save your favorites, follow these steps before upgrading to the next build we release (do it now):
Copy your favorites from %localappdata%/Packages/Microsoft.Windows.Spartan_cw5n1h2txyewy/AC/Spartan/User/Default/Favorites.
Save them to %userprofile%/Favorites.
After upgrading to the next build open Microsoft Edge, choose Settings, and you'll see an option to import favorites from another browser. Choose Internet Explorer to import the favorites you saved in your %userprofile% directory into Microsoft Edge.
New features and improvements on Edge:
A "home" button for Microsoft Edge. Add it via Settings > Advanced Settings and turn on "Show the home button".
Ability to import favorites/bookmarks from other browsers into Microsoft Edge.
There are new options for changing what you see when you first start Microsoft Edge.
There are new customizations for the New Tab page. You can choose to either see top sites and suggested content – or just top sites.
Password and form-fill support. Microsoft Edge now lets you manage your passwords for your favorite websites.
Audio from Microsoft Edge plays while the app is minimized or in the background.
You can drag and drop tabs to a new window.
A dark theme!
General UX improvements and refinement: General UX improvements and refinement in this build. For Continuum, a lot of bug fixes as well as improved Tablet mode animations, improved support for Windows 8/8.1 apps and classic (Win32) apps in Tablet mode. And when using the Start Menu, you can swipe up on the left side to open All apps. This also works in Tablet mode, when you have opened up the left side of Start behind the hamburger menu. Additionally, in All apps – you can click on a letter to quickly go to apps on the All apps list under that letter (great for people with lots of apps installed).
On the Taskbar, when an app needs your attention, it will now flash in orange. And when you download something or move files around in File Explorer, the progress animation in the Taskbar has been changed back to green and back to animating horizontally (instead of white and animating vertically seen in the previous build).
Updates to Cortana: We have a consolidated left rail now and Cortana's Notebook is in its final stage with a combined Profile and Settings experience. Cortana now has a dark theme color to match the rest of the OS. Tracking your flights has also been enabled so when you get an e-mail with flight or package information from supported providers they show up in the Cortana experience and Cortana will also alert you about them. Alerts for going to work, going home and the airport are also work now too. You should also try sending an e-mail with Cortana – we enabled this in this build! Just say everything at once such as who you want to email (you can send to multiple people), the subject of the e-mail, and what you want your email to say and that's it. For example – you would say something like "Email Gabe Aul Super Awesome Window Feedback…" and then what you want the message to say. You can even make corrections with your voice. Note – this feature requires an Internet connection and works for U.S. (English) right now.
Cortana integration with Office 365: With this build, you'll be able to try out the Cortana integration with Office 365 if your company is opted into First Release for Office 365. Cortana is already great at letting you quickly see what your day is going to look like, when and where to go for your first meeting, get a sense of travel times to work, or even get updates for upcoming trips from your calendar. Cortana gets even better with a connection to Office 365, which enhances Cortana's ability to help you prepare for meetings, learn about the people you work with, and remind you where you need to be next so you won't be late.
Updated Photos app for Windows 10: We've published an update to the Photos app via the Windows Store Beta. Not only does this update have general performance and reliability improvements, it also has new capabilities that Windows Insiders have been asking for. For example – the Photos app now supports animated GIFs.
We've added a "Open with" button in the photo viewer. While viewing a photo, click the "…" icon at the top right and choose "Open with". This was another top request from Windows Insiders. And now links to your saved photos, screenshots, and camera roll are available on the Albums page.
Snipping Tool: For fans of the Snipping Tool, you'll notice we've snuck in a new little feature in the Snipping Tool with this build. You can now set up to a 5-second delay to capture pop-up menus!
Insider Hub: As I mentioned here, the Insider Hub is no longer pre-installed starting with this build. You can reinstall the Insider Hub app through the following steps:
Go to Settings, System, Apps & features.
Click Manage optional features then Add a feature.
Select the Insider Hub entry (the list is in alphabetical order) and click Install.
Surface 3: This build has the fix for the issue that was preventing the Surface 3 from upgrading successfully in prior builds. You should be able to upgrade to this build.
Surface Pro 3: This build has several fixes that improve battery life with the Surface Pro 3.