Microsoft has officially released the Windows 10 May 2020 Update, the latest major feature update to Windows 10. Codenamed as Windows 10 20H1 publicly during development, Windows 10 May 2020 Update updates the Windows 10 version to 2004 (as the development was finalized on April 2020) and brings the OS build to 19041.1 and beyond, with build 19041.264 officially the final build of Windows 10 May 2020 Update for the GA (general availability).
Windows 10 May 2020 Update packs a lot of important new features and functionality, in addition to stability and performance improvements. Some notable features include Windows Subsystem for Linux 2 (WSL 2) which utilizes Windows Hypervisor Platform and Virtual Machine Platform to improve file system performance and provide full system call compatibility.
Cortana digital assistant is now an individual app (though it's still closed linked to Search) which allowed it to be undocked from Windows Taskbar, and support both typing or talking to the digital assistant. Also added is quick searches to the Search Home UI with quick access to News, New Movies, Today in History, Weather and more.
Refinements and user experience improvements are also been done to virtual desktops, Task Manager, Tablet Mode, Windows Update, Xbox Game Bar, Kaomojis, Windows Search, Network Status, System Recovery with Cloud Download, Accessibility, Disk Cleanup and more. In short, Windows 10 May 2020 Update is one of the major update for Windows 10 that you don't want to miss.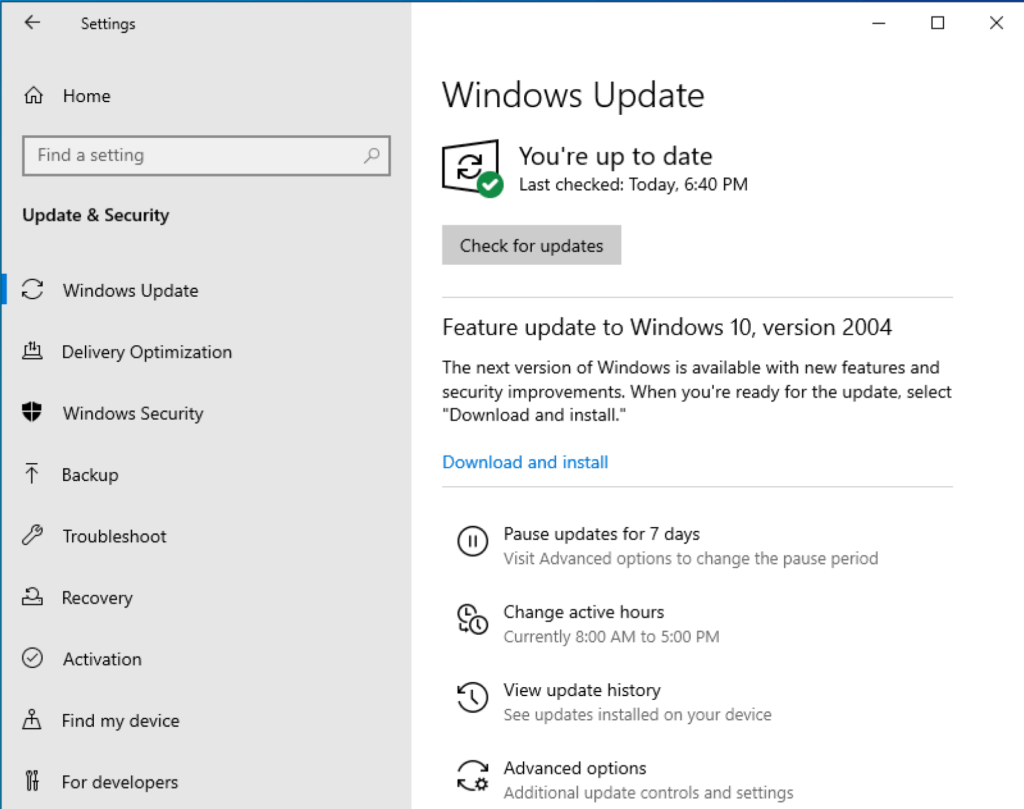 While Windows 10 May 2020 Update is now publicly available, it's not been pushed by Microsoft to any Windows 10 clients yet, as Microsoft employs measured and phased approach to make sure reliable and productive delivery. Instead, to get the update, users with devices running Windows 10, versions 1903 and 1909 have to "seek" the update, by manually going to Windows Update to "Check for updates".
So, you can now download Windows 10 May 2020 Update by opening Settings -> Update & Security -> Windows Update and hit the Check for updates button. Once the update appears, you can select Download and install.
If you Windows 10 May 2020 Update is not offered yet to your device through Windows Update, you can download Media Creation Tool or even Windows 10 Version 2020 ISO images to manually trigger the update. Check out all the ways you can download Windows 10 Version 2004 Build 19041 (Windows 10 May 2020 Update).