The next major feature update for Windows 10, Windows 10 October May 2019 Update version 1903, codenamed 19H1 during development, has gone gold with final RTM build of 18362.1. The Windows 10 May 2019 Update upgrades the Windows 10 to OS version 1903. The build has been previously released to Windows Insiders in the Fast, Slow and Release Preview rings, and is now rolling out to general public in late May 2019.
Microsoft has published the Media Creation Tool (MCT) for Windows 10 May 2019 Update v.1903. Media Creation Tool is used to create ISO images or installation media of Windows operating system, or to in-place upgrade the Windows operating system to latest version.
Media Creation Tool version 18362.1 can be downloaded from Microsoft, or directly from Microsoft's server via the following link:
https://software-download.microsoft.com/download/pr/MediaCreationTool1903.exe
Generally, you no need to get Media Creation Tool if you just want to update or upgrade your PC to latest version of Windows 10, as the feature update will be pushed via Windows Update to all Windows 10 PCs. However, if you're not offered and Windows 10 May 2019 Update yet, and can't wait to experience the new features, or requires an official ISO image of Windows 10, MCT is a good method to manually imitate the upgrade or to create an ISO image or USB installation media.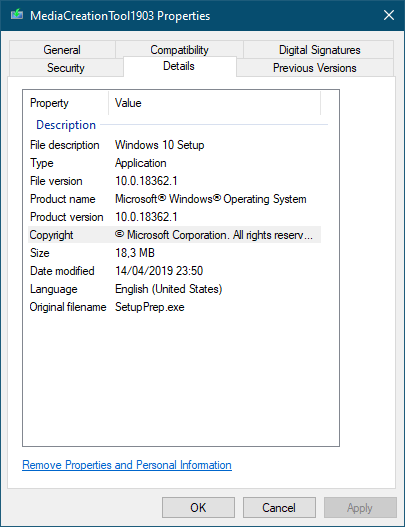 Media Creation Tool fetches a XML file that details all the Windows 10 v.1903 ESD files that it should downloads. The products.xml metadata, contains inside products_20190502.cab cabinet file, can be downloaded from the following direct download link:
https://download.microsoft.com/download/5/8/4/584230EE-70C4-46D6-B992-FDAE62820615/products_20190502.cab
The Windows 10 v.1903 ESD that is downloaded by Media Creation Tool v.1903 has the build version 18362.30.190401-1528.19h1_release_svc_refresh, indicating that the the ESD has incorporated KB4497464 that pushes the OS Build to 18362.30 after upgrade. In actual, more cumulative updates such as KB4497936 may be downloaded and installed by MCT during installation process, which brings Windows 10 May 2019 Update to OS build 18362.113 and beyond.