Yahoo! Messenger 9, which currently in beta stage, has been updated to version 9.0.0.922 since last December. As usual, users who download the Yahoo! Messenger 9.0 Beta setup file from the beta page (no longer available) will get Yahoo! Suite installer instead, which has many other functions such as entice users to also install Yahoo! Toolbar, set Yahoo! as homepage and etc.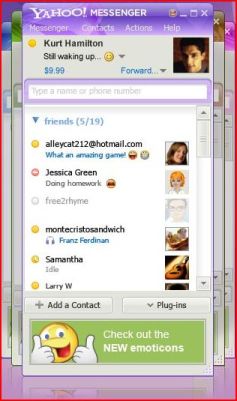 For users who want the standalone setup installer for Yahoo! Messenger 9.0.0.922, just download the full version setup installation file, which can be used for offline installation or distribution on CD, using the links below.
US English: ymsgr900_922_us.exe
America
Argentina: ymsgr900_922_ar.exe
Brazil: ymsgr900_922_br.exe
Canada: ymsgr900_922_ca.exe
Canada (Quebec French): ymsgr900_922_cf.exe
Yahoo! Telemundo (Latin America Spanish): ymsgr900_922_e1.exe
Mexico: ymsgr900_922_mx.exe
Europe
France: ymsgr900_922_fr.exe
Germany: ymsgr900_922_de.exe
Spain: ymsgr900_922_es.exe
UK & Ireland: ymsgr900_922_uk.exe
Oceanic
Australia & New Zealand: ymsgr900_922_au.exe
Asia
India (Hindi): ymsgr900_922_hi.exe
India (English): ymsgr900_922_in.exe
Indonesia: ymsgr900_922_id.exe
Hong Kong (Chinese): ymsgr900_922_hk.exe
Korea: ymsgr900_922_kr.exe
Malaysia: ymsgr900_922_my.exe
Philippines: ymsgr900_922_ph.exe
Singapore: ymsgr900_922_sg.exe
Taiwan (Traditional Chinese): ymsgr900_922_tw.exe
Thailand: ymsgr900_922_th.exe
Vietnam: ymsgr900_922_vn.exe
For users on Windows Vista, there is also Yahoo! Messenger for Windows Vista available, which also in beta phase. The latest version is 2008.01.11.428. For those who feel version 9 beta is not stable, use Yahoo! Messenger 8.1 final (latest version 8.1.0.421).
Update: Yahoo! Messenger 9.0.0.2136