Some of the popular frequently asked questions since the launch of Windows Vista are whether the computer, or the PC that you going to buy supports Windows Aero Glass Transparency effects? To know whether your notebook or desktop computer supports and able to enable and run Windows Aero effect, here's a very simple trick to learn and know the support almost immediately without drilling into the hard to understand hardware specifications.
Officially only 4 editions of Windows Vista supports and runs Aero effect, i.e. Windows Vista Business, Windows Vista Enterprise, Windows Vista Home Premium, and Windows Vista Ultimate. If your computer especially those OEM license version, is not coming with any of these edition of Windows Vista, you won't able to turn on Windows Vista Aero transparency design effect.
Microsoft also listed several hardware requirements to run Aero such as minimum 1 GHz CPU processor, 1 GB of physical RAM and 128 MB DirectX 9 class graphics adapter or motherboard integrated video accelerator that supports a Windows Display Driver Model Driver (WDDM), Pixel Shader 2.0 in hardware, and 32 bits per pixel. In actual, if your computer wants to run Windows Vista properly and smoothly, the first two specifications should have been met.
And for graphics processing unit (GPU) requirement, the simple trick is to make use of Windows Experience Index rating to determine if the graphic card supports Windows Aero glass effect. To reveal and show the Windows Experience Index rating score, right click on "Computer", and select "Properties". In the basic information about computer window, the rating of Windows Experience Index is shown. If the rating has the score of 1.0, it means that the computer does not support Aero. Aero will only run on system that has rating of 3.0 or above. The general rating is actually based on the lower score of all subscores. You can click on the Windows Experience Index link to determine that the 1.0 value is actually caused by "Graphics" or "Gaming Graphics". If the video card does not support Aero, the WEI rating score for graphics component will probably always be the lowest.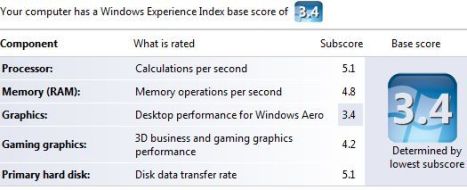 However, note that it's possible to modify and cheat the Windows Experience Index rating score. So if you're planning to buy a new laptop or PC, beware not to be fooled or cheated.
If your system is determined to be support Windows Aero, but unable to open or run the Aero theme, it's probably due to driver issue. Try to download and install the latest Windows Vista drivers for the GPU graphics card from the manufacturers such as Intel Graphics Media Accelerator (GMA). The issue is known to happen on some integrated graphics adapter on motherboard such as Intel GMA X3000 and GMA 950.