I
t's possible to
delete and remove all or specific typed URL entry in Internet Explorer
Address Bar history drop down list. It's also actually possible to edit the URL link instead of deleting it away, by modifying the URL value in the registry key named
HKEY_CURRENT_USER\Software\Microsoft\Internet Explorer\Typed URLs
. To do that, simply right click on the desired typed URL you want to edit or modify the link address, and instead of click on Delete, now click on
Modify
. Alternatively, just double click on the specific URL and then make the required changes. Other than this manual way to edit or delete URLs at Internet Explorer Address Bar history, there are several freeware apps that automate the tasks too.
EditURLs – Edit the URL Address Dropdown List for Internet Explorer
EditURLs is a free software utility with easy to use user interface that provides the user with the capability to edit specific individual URL address or typed URL in Internet Explorer's Address Bar. Beside, EditURLs also allows users remove and delete individual URLs or clear all of IE's Address Bar history, for privacy, track removal, or footprint cleaning. EditURLs also has the capability to save the typed URLs from the registry to file, and to restore a saved copy of the typed URLs. This feature is useful if the user want to maintain a few set of "Typed URLs" which can be restored and display on IE's Address Bar drop down list with just a click of button. Beside, users can also use the tool to sort the URLs, and move up or move down the specific typed url to manually arrange the sequence of the typed URLs.
EditURLs supports most version of Internet Explorer including IE 4.0, 5.0, 6.x and 7.0 on all Windows OS including Windows XP and Windows Vista.
Download EditURLs: editinst.exe
IE Address Bar Editor 2
IE Address Bar Editor 2 is a newer version of free download that allows users to alter the URL links that appear in the drop down menu on the Address Bar in IE. The program also features ability to delete or remove one or more typed URLs, replace or edit the existing typed URL with the new link location, resort the sequence or arrangement of typed URLs by using drag and drop method to move the positions of URL items, or add new URL entries to the address bar.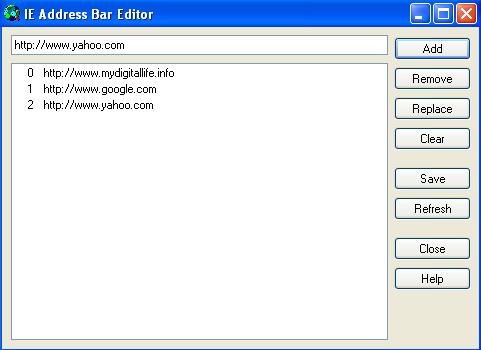 IEeditor works with most version of Internet Explorer including IE5, IE6 and IE7 running on all Windows system such as Windows 95, 98, 2000, NT, XP and Vista.
Download IE Address Bar Editor 2: ieedit2.zip (resource no longer available)
Note: When apply the changes or modification or alteration to the IE Address Bar Typed URLs history, close all IE web browser's windows. This is because Internet Explorer maintains the URL Address dropdown list in memory and writes it to the Registry and thus overwrites any changes that have been made when any browser window is closed.