I
f you're not comfortable in using command line in
activating Administrator account
in Windows, there is another easy way to enable the Administrator account by using graphical user interface (GUI) within Windows desktop. It's not necessary a must to use Administrator user account to login to Vista, but it's useful if you want the convenient of using computer
without distraction of User Account Control
,or simply want to have a super user account as a 'backdoor' backup that able to reset your password if forgotten.
How to Enable Administrator Account and Show on Welcome Screen from GUI Local Security Policy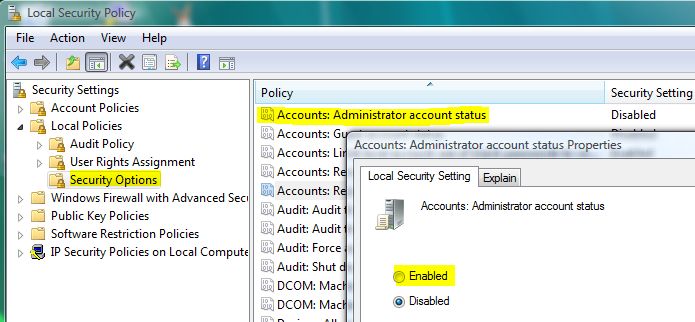 Type secpol.msc in Start Search box, Run dialog box or Command Prompt and press Enter to skip step 1 to 3.
Click on Windows Start button, then go to Control Panel.
Inside Control Panel, click on System and Maintenance link, follow by Administrator Tools at the bottom.
An Administrator Tools window appears. From there, click on Local Security Policy applet.
Click Continue on User Account Control's window if Windows needs your permission to continue running Microsoft Management Console (MMC) dialog box.
On the left pane of Local Security Policy MMC, expand Security Settings (should be opened by default), then expand Local Policies.
Click on Security Options branch.
Double click on Accounts: Administrator account status setting, then select Enabled radio button on Local Security Setting tab of Properties window.
Click on OK button.
Log off, switch user of restart your computer to logon with activated Administrator account.