Enter the Gungeon is an addictive fast-paced bullet hell shooter rougelike dungeon crawler video game. The gameplay follows four misfit adventurers as they descend into the Gungeon to shoot, loot, dodge roll and table-flip their way to the bottom of Gungeon through challenging and evolving series of floors filled with Geundead and Gungeon bosses to find the legendary Gungeon's ultimate treasure, that's a gun can kill the past.
The player chooses between the four protagonists, all of whom have different special abilities, such as calling for support or lockpicking chests. A second player is able to join in for co-op mode and control a fifth character.
Enter the Gungeon has earned critical acclaim from most players. It sold 200,000 copies within its first week across all platforms, and has since amassed more than 2 million sales across all platforms it's released on, including Microsoft Windows, Apple macOS, Linux, Sony PlayStation 4 (PS4), Microsoft Xbox One and Nintendo Switch.
If you haven't bought the game, now is your chance to own the addicting game Enter the Gungeon for free for life. Epic Games, the American video game and software development company that launched Epic Games Store to compete with Steam, is giving away Enter the Gungeon full game for free through Epic Games Store.

To get the Enter the Gungeon for free, visit Enter the Gungeon product page on epicgames.com, and you should see sand FREE button displayed prominently, striking out the usual price of $10.99.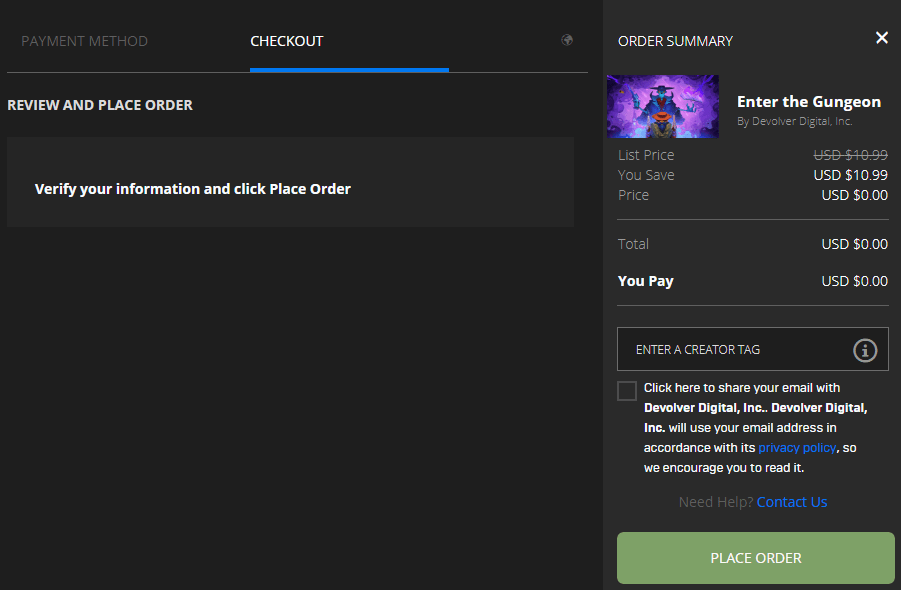 Login or sign up for an Epic Games account, and complete the checkout process to buy and own Enter the Dungeon at no cost. Note that you need to install Epic Games Launcher to download and install Enter the Gungeon.
The free Enter the Gungeon game offer is valid through June 20, 2019,as part of Epic Games free weekly game promotional campaign.