E
ye-Theater Personal Multimedia Viewer is a glass product from PDT that acts as a head-mounted multimedia and video viewer that promises to deliver an "immersive audiovisual environment". Eye-Theater users wear the glasses display into their eyes and will be able to watch to a movie or video at a display that has a similar effect to watching a big 50″ screen from around 2.5m. Eye-Theater features twin TFT LCD screens to display 320 x 240 video resolution which similar to iPod video output, integrated stereo earphones, supports NTSC/PAL/SECAM video systems, comfortable without straining the eyes by allowing the eyes to focus at comfort distance of 2.5m, weighing 70g, and compatible with iPod with video, Microsoft Zune, TV, VCR, portable DVD player, video games console, camcorders and any other entertainment devices with Video-Out.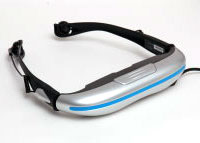 vnunet (dead link) reviews Eye-Theater video viewing glasses and concludes with rating of 3 out of 5 that the big-screen effect works well and picture quality improved in a darkened room, though. Unfortunately the earphones that are integrated into the Eye Theater's arms become uncomfortable very quickly. Sound quality isn't great either. The £150 asking price may sound steep but it's by far the cheapest device of its kind. The real question, though, is in what situation you'd feel comfortable wearing them.
Reg Hardware reviews Eye-Theater video glasses for iPod and concludes that the Eye-Theater's a love-it or hate-it device. 5G iPod owners who watch videos on long flights will find it handy, and there's no doubt it has a certain cool quality – though it would have rather more if the design was a little less naff. It's a good device to have to hand when you want to watch one thing and the missus wants to watch another.