Firefox web browser has built-in inline spell checker which automatically checks for spelling mistakes as you type in forms or text boxes in web pages. However, after installing Firefox, especially if you're installing fresh for the first time, the spelling check may not work, and Firefox won't highlight with red dotted underline any word that is misspelled.
The not working spelling checker in Firefox is probably caused by missing dictionary, or no dictionary installed. This is especially if you already ensure and double check that Firefox spell checker is enabled in Check my spelling as I type option in "Browsing" section of "General" tab under "Advanced" heading.
Check and verify that properly dictionary in the typed language is installed and added to Firefox. To check, simply right click on any user type-able field, and if you see an option Add dictionaries… as shown in figure below, that's mean no dictionaries existed in Firefox, so spelling check won't work.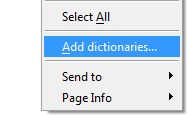 To install and add dictionary, simply click on Add dictionaries… menu item. Firefox will launch a new window or tab to load Firefox Add-ons: Dictionaries and Language Packs page, where you can install various languages dictionaries that work with the spell-checking feature in Firefox. Restart Firefox after installing, and the spell checker should now works properly.
Ensure that Spell check this field or Check spelling is selected in right click context menu on the typing box that you want to check spelling. Another possible resolution if problem still exist is wrong or invalid language of dictionary is been installed. For example, only Portuguese or Spanish dictionary add-on is installed while you're typing in English. To add dictionary, simply right click on any text field again, then go to Languages and select Add dictionaries…. Choose to install the correct language of dictionary in the web page loaded, and restart Firefox after installing.