S
earching and looking for an account, invite, or waiting for open registration period to register and sign up at popular private BitTorrent tracker sites? There are a lot of public and private torrent tracker sites on the Internet that does not always open for free registration, but often features a lot of fast seeders, best downloadable contents and extreme fast download speed which may max out ADSL bandwidth limit. And most requires users to maintain a good upload/download ratios, else account will be banned.
That's why the giveaway these highly sought after private torrent tracker sites account is very strict too. Most requires special invite or invitation code to signup as users during closed registration period. But most do has open public registration duration, where everybody can sign up and register an account for free. However, the registration openings don't happen frequently, and even if the registration is now opened, you may miss the free offering as you simply don't know when these BitTorrent tracker sites will open for registration.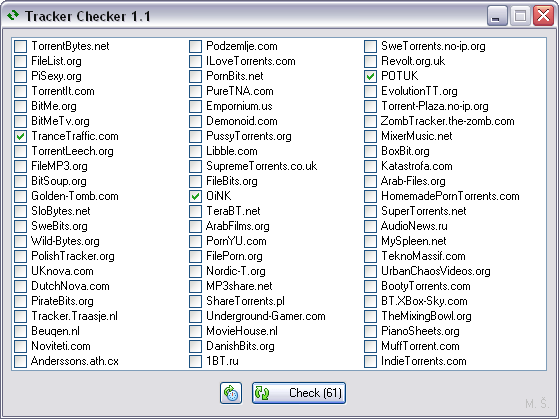 Tracker Checker is an utility software by a Slovenian StamCar to help you be the first one to know when a torrent tracker site opens for free registration without the need of invite. Tracker Checker automatically monitor and check for status of open signups at private torrent tracker websites which do not allow instant account activation all the time. The program offers a huge list of trackers and users simply need to check (tick) whichever the ones they're interested in. The program then checks every selected trackers at the interval of every 2 minutes (default and can be configured to your preference) to see if it's possible to register on a chosen tracker. When a tracker with open registrations is detected, a notification pop up at system tray area to inform and notify user. Click on Tracker Checker icon will open the program's window, and users can just double click on the tracker site or click on URL button with status indicated to "OPEN!", Tracker Checker will open up the BT tracker site's account registration sign up page on default web browser.
Other feature, which probably you no need to use, is add or remove tracker sites from the list via trackers.xml file located in the program's directory.

Download Tracker Checker (no longer available).
Update: Tracker Check version 2 offers more feature enhancements such as add new trackers to complement the list and remove the ones that you don't want to use from within program.
To run the program, Microsoft .NET Framework 2.0 x86 (no longer available) or Microsoft .NET Framework 2.0 x64 is required.
Almost all popular private bit torrent trackers are supported, such as TorrentBytes.net, FileList.org, PiSexy.org, TorrentIt.com, BitMe.org, BitMeTV.org, TranceTraffic.com, TorrentLeech.org, FileMP3.org, BitSoup.org, SloBytes.net, SweBits.org, Wild-Bytes.org, PolishTracker.org, UKnova.com, Dutchnova.com, PirateBits.org, Tracker.Traasje.nl, Beuqen.nl, Noviteti.com, Anderssons.ath.cx, Podzemlje.com, ILoveTorrents.com, PornBits.net, PureTNA.com, Empornium.us, Demonoid.com (a lot of interested people requests it here and here), PussyTorrents.org, Libble.com, SupremeTorrents.co.uk, FileBits.org, OiNK, TeraBT.net, ArabFilms.org, PornYU.com, FilePorn.org, Nordic-T.org, MP3share.net, ShareTorrents.pl, Underground-Gamer.com, MovieHouse.nl, DanishBits.org, 1BT.ru, SweTorrents.no-ip.org, Revolt.org.uk, POTUK, EvolutionTT.org, Torrent-Plaza.no-ip.org, ZombTracker.the-zomb.com, MixerMusic.net, BoxBit.org, Katastrofa.com, Arab-Files.org, HomemadePornTorrents.com, SuperTorrents.net, AudioNews.ru, MySpleen.net, TeknoMassif.com, UrbanChaosVideos.org, BootyTorrents.com, BT.XBox-Sky.com, TheMixingBowl.org, PianoSheets.org, MuffTorrent.com and IndieTorrents.com.