W
indows 10 has added built-in native codec support for Matroska Multimedia Container, commonly known as MKV as the file name normally has the file extension ending in .mkv. MKV can hold an unlimited number of video, audio, picture, or subtitle tracks in one file.
As Windows 10 now has built-in support for MKV file format with native codec, the need of a third-party codec pack is no longer necessary. In previous versions of Windows operating system, many users install various codec packs such as Haali Media Splitter, CCCP (Combined Community Codec Pack), Matroska Splitter, ffdshow and many others to playback MKV files in media player that uses DirectShow filter, such as Windows Media Player.
But when you uninstall the third-party MKV codec or filter in Windows 10, the Windows 10 universal app for video content, File & TV (also know as Movies & TV, Xbox Videos or simply Videos app) throws an error when you play a MKV or MKA file.
Can't play.

Can't play because the item's file format isn't supported. Check the store to see if this item is available there.

0xc1010090 (0xc00d3e8c)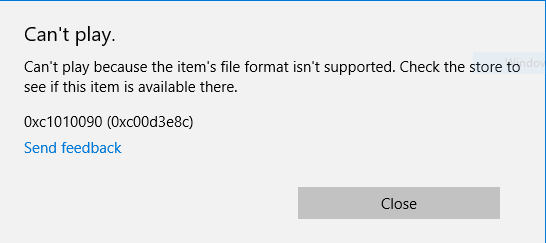 Or,
Can't play.

This item is in a format we don't support. Please choose something else.

0xc00d36b4 (0xc00d36b4)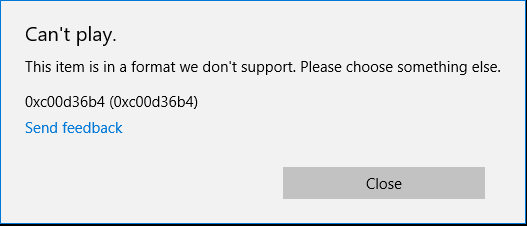 While the Film & TV app cannot playback the MKV file, Windows Media Player could play the media file properly.
The cause for the issue appears to be missing registry keys that let the Video app know which codec filter to use to decode the MKV or MKA files.
Fixing the issue is easy. Just download the Win10-MKV.zip, and execute the Win10-MKV.reg registry registration file inside the archive to merge the MKV and MKA related registry keys to the system registry.
After the registry is repaired, you should be able to playback Matroska multimedia files in Film & TV app, although it still depends on the codec support for the tracks inside the container. In addition, to show the preview thumbnails for supported MKV files, remove and reset the thumbnail cache.