T
he
Windows 10 Version 1511 Build 10586
, codenamed Threshold 2, has been officially released as November Update, which is available for free download and upgrade installation via Windows Update. However, some users may not be offered the Windows 10 version 1511, 10586 update in
Windows Update
, despite repetitive checking for updates.
If the Windows 10 version 1511, 10586 is not showing up in Windows Update on your system, it can be due to one of the following reasons:
You recently upgraded to Windows 10, which occurred less than a month ago (31 days to be precise). Microsoft provides option for upgraders to downgrade to previous Windows version if you're not satisfied with Windows 10, or is encountering issues. If you upgrade to Windows 10 November Update v.1511, you lose the option to downgrade. Hence, Windows Update will automatically download the Windows 10 November Update v.1511 after the 31 days have passed.
You are opting to defer upgrades in Windows Update's advanced settings, which obviously will delay the upgrades available to you. Turning it off will make Windows 10 Threshold 2 shows up in Windows Update right away after a reboot.
You have received Windows 10 Fall Update, but chose to remove it.
In some cases, when installation of Windows 10 Version 1511 (Build 10586) failed, the update is no longer offered in Windows 10 too.
In any cases, if Windows 10 version 1511 (Build 10586) does not show up in Windows Update, and you want to upgrade your system anyway, you can download Windows 10 Media Creation Tool, which allows you to in-place upgrade directly or create an ISO and installation media to upgrade other computers or perform clean install.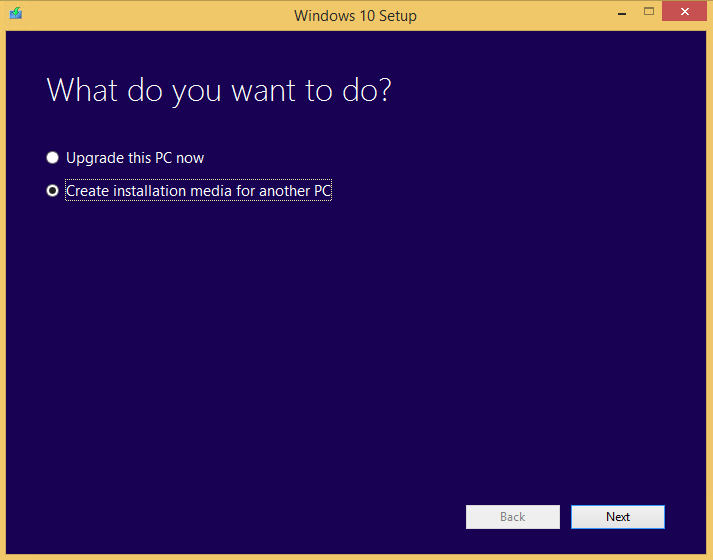 Note that the tricks above work also in Windows 7, Windows 8 or Windows 8.1 which do not have Windows 10 free upgrade offered in Windows Update.