For Honor is an action video game developed and published by Ubisoft for Microsoft Windows, PlayStation 4, and Xbox One, first released in 2017. In the game, players play the roles of historical forms of soldiers and warriors, including knights, samurai, vikings and the Chinese Wu Lin, within a medieval setting. The game is controlled using a third-person perspective that put players in total control of the warriors, and can be played as single player mode through engaging story campaign or multiplayer mode.
Features of For Honor (Standard Edition):
UNIQUE WARRIORS TO MASTER – Choose your favorite warrior amongst Knights, Vikings, Samurai and WuLin
MEMORABLE STORY CAMPAIGN – Storm castles and fortresses in massive battles and confront deadly bosses in intense duels
CONQUER FOES ALONE OR WITH FRIENDS – For Honor offers single-player, offline campaign and thrilling multiplayer
INNOVATIVE ART OF BATTLE CONTROL SYSTEM – Obtain total control of your Warrior
YOUR WARRIOR, YOUR COLORS – Customize each facet of your warrior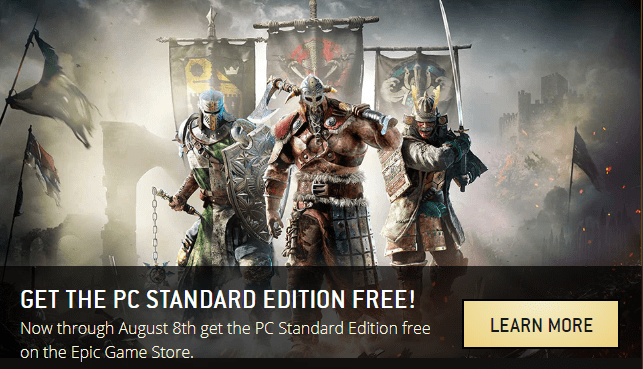 For Honor Standard Edition normally costs $24.99. But now you can own For Honor Windows PC version for free, thanks to weekly free game promotion from Epic Games storefront.
To download and free full version game of For Honor – Standard Edition, visit Epic Games. The standard price of $24.99 should be crossed out, replacing with "Free" during the promotion period.
You need a Epic Games account to grab the free For Honor game. Epic Games launcher is also required to download and install the game. Offer valid till August 9th, 2019.