A
dobe Acrobat Reader is the official and free application from Adobe that allows users to open, view, read and print files and documents in PDF (Portable Document Format), a de facto open file format for printable documents and business documents or publications that has to maintain the exact look in a device-independent way. But Adobe Acrobat Reader is resource hungry. Not only Acrobat Reader takes a long time to load as it parses and install add-ins and plug-ins one by one, the bloated reader also takes up the precious memory, not to mention the big 20MB download size. Sometimes, Adobe Reader will prompt you for updates and other free apps after the initial loading, instead of bring you directly to the PDF documents which you would have expected.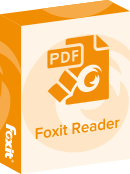 Now you have the alternative to open, view and print the PDF documents with Foxit Reader. Foxit Reader is a free PDF document viewer and printer, with incredible small size (only 1.5 M download size in version 2.0 though it has increased in size with each new version.).
Foxit Reader Features:
PDF Viewer – Lighting fast PDF view and print of PDF files and portfolios quickly without exhausting system resources.
Easily View Multiple PDF Files – Multi-tab style document display allows users to go back and forth between different PDF documents quickly and easily.
Configurable PDF Viewer – Configure document views with read mode, reverse view, and text viewer options. Configure page display with full screen, single page, continuous scrolling, split, two page facing, continuous facing, separate cover page, auto-scroll, and page transition options.
Bookmark Support – Easily add, edit, and modify bookmarks in a PDF document.
Multiple Views – Rotate pages between landscape and portrait. Configure zooming or adjust magnification using the marquee, loupe, and magnifier tools.
DF Creator – create standards compliant PDFs that are 100% compatible with other PDF products.
Microsoft Office PDF Create Integration – create PDF within Microsoft Office applications with integrated Microsoft Office plug-ins.
PDF Scan and PDF Convert – convert paper documents to electronic PDF files.
Multimedia PDF – insert images and videos in your PDF.
Share PDF on SharePoint servers – SharePoint PDF check-in and check-out.
Share PDF on Evernote – Create and send a PDF as an attachment to an Evernote note.
Share PDF through Email – Save and email straight from the application.
PDF Collaboration – Provide feedback to documents through annotation and text markup tools.
PDF Annotation – Quickly view all the comments in a document in an easy to understand summary.
Share PDF Annotations – Import, export, and send comments as a FDF file via email.
PDF Stamps – Indicate the status of a PDF document or hint the reviewer where to sign. Select from a group of pre-made stamps or create your own.
PDF Attachments – Easily add a file as an attachment to your document.
Graphical PDF Annotation – Make feedback more effective with boxes, circle, arrows, and more drawing tools.
PDF Form Filling – Standard PDF and XFA form filling gives you and users the ability to fill out forms while leveraging existing forms and workflow.
PDF Form Auto-Complete – Helps users when completing forms by predicting what they want to type.
PDF Form Data Collection – Supports industry standards to import form data from a file, export form data to a file, and export form data and send from email. Via JavaScript connectivity to Windows ODBC, developers can create JavaScripts to connect to a database to insert, update, and delete data.
Security Warning Dialog – warns users if a PDF document attempts to call or run an external command.
Trust Manager (Safe Mode) – prevents suspicious external commands to be executed by Foxit Reader.
Enhanced Security with ASLR & DEP Support.
Disable JavaScript – an option for turning off JavaScript entirely. If a vulnerability does threaten Foxit Reader users, Foxit's Security Response Team (SRT) quickly verifies the issue, analyses the effect and root cause, communicates the issue to users, and then delivers a tested fix.
Signing PDF Documents through PDF Sign with own handwriting, DocuSign with eSignature solution and Digital Signature
Foxit Reader is available for free download from foxitsoftware.com. The free edition of Foxit Reader allows users to view or print PDF document, fill out PDF forms and save them, view PDF as text plus usage of critical add-ons, such as UI language package, JPEG2000/JBIG decoder, CJK package, GDI+ for early Windows version, etc. Other features will available in Foxit Reader Pro which costs the price between $22.00 and $39.00.
Foxit Reader supports Windows 98/Me/2000/XP/2003/Vista/7/8/8.1/10.