S
ince Windows Vista and Microsoft Office Outlook 2007, Windows and Outlook has
built-in previews functionality that enables you to preview or view the contents of certain files without actually opening it
. The build-in previews feature comes with preview handlers that support Word documents, PowerPoint presentations, Excel spreadsheets, font files, video files, audio files, and a few other file types that are common and used regularly as email attachments. However, if there's no supported preview handler for a particular file type, such as .aspx source code file, .zip, .rar or other files, you won't be able to just click on it and view the contents automatically in the preview pane.
Luckily, Windows and Outlook allow developers to develop and implement custom preview handlers for any file type, which after registering the handlers, users can instantly gain preview capabilities for those file types in Outlook and Windows. Windows and Office Preview Handler Pack is one such custom previewers or preview handlers that provides support for .cs, .aspx and .sql source codes. With the handler pack installed, you can just click on the file ending with extension of .cs, .aspx and .sql with preview pane on, and instantly view the file content in the preview pane.
Windows and Office Preview Handler Pack can be downloaded CodePlex. To install it you will need run the installer as Administrator. Beside, if you have any other file types in mind that you would like to has the preview ability too, simply tell the author and he may include the support for that file ext.
The preview handler pack adds support for preview of ActionScript (.as), ASPX (.aspx), C# (.cs), CSS (.css), Diff (.diff, .patch), DOS (.bat, .cmd), JavaScript (.js), Ruby (.rb, .rhtml, .rjs), SQL (.sql) and VB (.vb).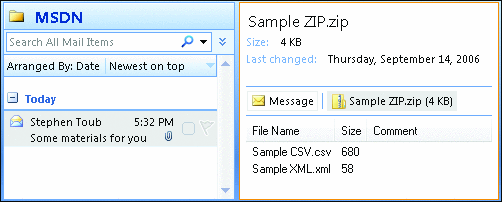 Preview zip file contents in Outlook 2007.
If you would like previewers and preview handlers for PDF, XML, ZIP, MSI, BIN, CSV, XPS, and XAML files so that you can also preview the files without opening the files in Windows or Outlook, download sample previewers (PreviewHandlers2007_01.exe) from Microsoft. It comes with source code of handler framework which can be ignored. To install the preview handlers, make sure you right click on it, and choose Run as Administrator.