T
he final version of Windows Media Player 11 for Windows XP has gone gold and RTM, and is released to the public for free download. Windows Media Player 11 (WMP or WMPlayer 11) features built-in support for Urge, a subscription music service co-developed with MTV, streamlined and simplified interface, fast access to shortcuts and settings, universal back and forward button, revamped playback controls, faster CD ripping, Reverse Sync from portable device to PC, improved searching, and supports new formats for ripping and playing music, namely Windows Media Audio Professional and WAV Lossless.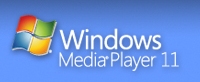 Contrary to other releases and downloads which required Windows Genuine Advantage Validation Tool verification of genuine copy of Windows, when you click on download link on Windows Media Player homepage to download WMP11, you will be directed to Microsoft Windows Media Player Download page that allows all users to download WMP 11 directly, without going through any genuine Windows validation test. Beside, users can also download Widows Media Player 11 via Microsoft Download Center that requires genuine Microsoft Windows validation verification (WGA validation is deprecated).
The direct download link for WMP11 is as below:
Windows Media Player 11 for Windows XP SP2 (x86 32-bit)
Windows Media Player 11 for Windows XP SP2 (x64 64-bit)
Although no WGA validation is required when download the WMP11 installer setup file, however, there is WGA validation process embedded during the installation setup process which will validate your copy of Windows OS, and you will need some tricks or cracks or hacks to get around the validation check to install WMP11, if the validation failed to validate your Windows as genuine and legal.