W
ant to download Windows Vista and 2007 Microsoft Office Systems for free? Now you have a chance, if you're legal residents of the 50 United States (includes District of Columbia) and 18 years of age or older to receive fully licensed and legal DVDs of Microsoft Office Professional 2007 and Windows Vista Ultimate for free. Microsoft wants everybody to learn the power of Windows Vista and Microsoft Office working together in the Power Together campaign, and in return for users' time spent, Microsoft will giveaway two offers – Windows Vista Business Offer and Microsoft Office Professional 2007 Offer as a gift, which normally would costs $499 (Microsoft Office Professional 2007 suites costs) or $399 (new version price for Windows Vista Ultimate) and $259 (upgrade price for Windows Vista Ultimate).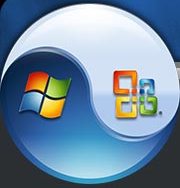 To eligible to receive the free software license offer, all uses have to do is to register at www.powertogether.com (no longer available) and participate in at least three (3) qualifying web casts and/or virtual lab sessions (for each free product offer) within 30 days of registration. The free Vista and Office 2007 full software licenses with product keys and DVDs give away offers expire on February 28, 2007, or while supplies last, and are not redeemable for cash. Taxes, if any, are the sole responsibility of the recipient.
Users need to submit personal information including name, telephone, and address during registration, and will entitle and limit to one gift per person per Offer. If you want free legal and genuine copy of both Windows Vista and Office 2007, and eligible for and register to receive both gifts, you must complete Form W-9 (Request for Taxpayer Identification Number and Certification) to receive the second gift. The shipment and delivery of the gift(s) will take about 6 – 8 weeks, and gift returned as non-deliverable will not be re-sent by Microsoft. After that, you no longer need to worry about pirating the Windows or Office.
However, if you or your employer is a participant in the Microsoft Partner Program or the Microsoft Developer Network, these offers are not valid and you're not eligible to receive the free OS and business productivity suites from Microsoft.
Update: Microsoft is also giving away free full version product key for Windows Vista SP1 in Desktop Deployment & Evaluation Kit and free Office 2007 to launch event attendees.